Follow us on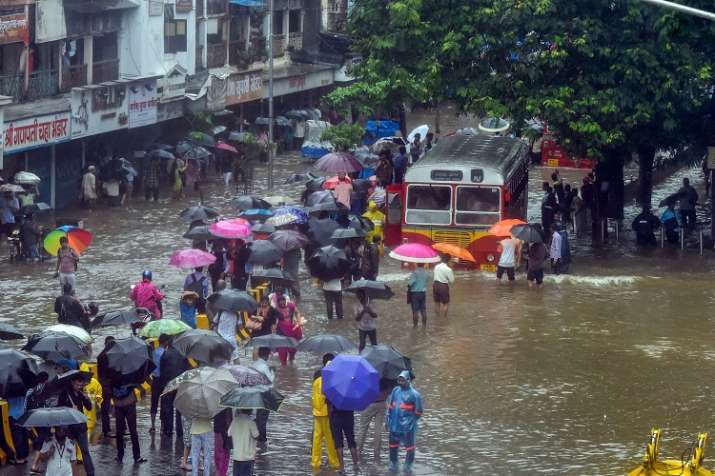 Heavy rains wreaked havoc in many parts of India on Thursday including Maharashtra, Madhya Pradesh, Gujarat, Karnataka, throwing normal life out of gear. Instances of waterlogging were reported from many areas including Bhopal, Indore and Jabalpur. Meanwhile, The National Disaster Response Force (NDRF) has deployed 97 teams at 71 locations in at least 14 states across the country for rescue and relief operations of flood affected people. 
1. Heavy rains pummel parts of Madhya Pradesh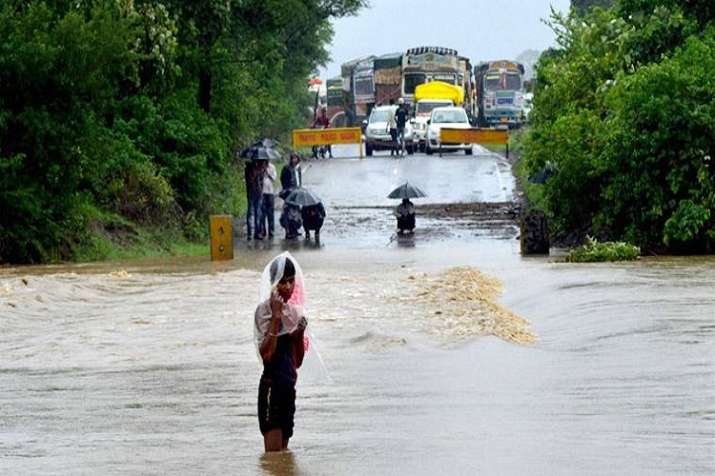 Heavy rains lashed parts of Madhya Pradesh on Thursday, including the state capital, where major water logging created hardships for the people. In Bhopal, which recorded 11 cm rainfall in 24 hours till 8 am on Thursday, the low-lying areas were flooded due to overnight downpour.
While many schools in Bhopal remained shut due to the downpour, those that were open witnessed thin attendance as most of the children could not reach their schools due to flooded roads. People could be seen wading through waist-deep water in the morning to reach their destinations. 
ALSO READ| Madhya Pradesh: Heavy rains throw normal life out of gear, water logging reported from many areas
2. Heavy downpour in Kolhapur, Maharashtra
Kolhapur city and parts of the district witnessed heavy rains on Thursday, which led to swelling of major rivers. 
Talukas located in the western parts of the district, including Gaganbawda, Chandgad, Radhanagari, Panhala, were lashed by heavy showers, that affected the normal life in these parts. 
As a result of the continuous downpour, the water level of Panchganga river that flows near Kolhapur city has been rising steadily. Water-logging in low-lying areas in the city affected the normal life to some extent. 
Due to the heavy rains, 32 Kolhapur type (KT) weirs have started overflowing, leading to complete disruption of transport services to seven villages. 
The Anuskura mountain pass has been shut for vehicles following incidents of landslides.
3. Heavy rains affects life in parts of Karnataka
​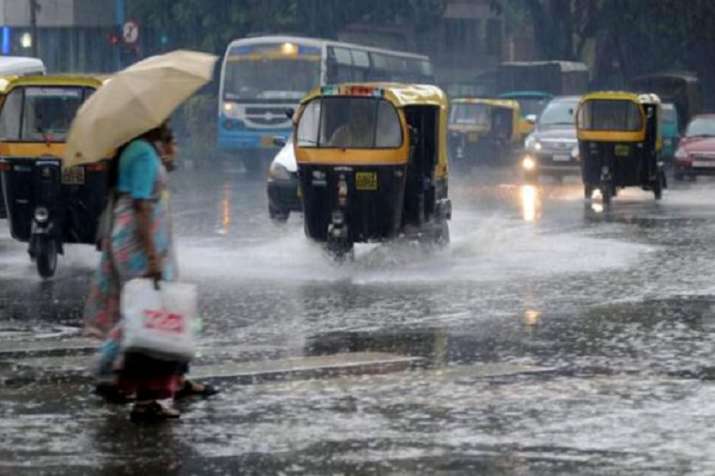 Heavy rains under the active south-west monsoon continued to batter parts of Karnataka, affecting life and causing several rivers to be in spate, 
officials said here on Thursday. 
Life was badly affected in the southern districts of Chikkamagaluru, Shivamogga, Hassan, Kodagu and Bagalkot, which are being lashed by rains for the past several days. 
Rivers, including Cauvery, Tunga, Bhadravati and Krishna, and their tributary streams were in spate, they said. 
Authorities in the rain affected districts have ordered closure of schools depending on the local situation and asked people living near the swollen rivers to move to safer places. 
The Karnataka State Natural Disaster Monitoring Centre (KSNDMC) has issued a warning to people not to go near the rivers with high current. 
There is rainfall for so many days due to which inflow of water in all the reservoirs has increased. However, these rivers still have carrying capacity, KSNDMC Director Dr G S Srinivasa told PTI. 
In a fresh rain-related incident, a youth was swept away with his two-wheeler in a stream yesterday in Koppa Taluk of Chikkamagaluru district. 
The personnel of the National Disaster Response Force and the fire brigade were searching for him, police said. 
Copious rains had been reported in Kodagu district where Cauvery originates. Lakshman Tirtha river, a tributary of Cauvery, was also in torrents. 
Due to the heavy downpour in Chikkamagaluru and Hassan districts, Hemavathi river is swollen and the water level in the dam built across it in Hassan was just 7 ft short of its maximum level.
4. Rains lash parts of Gujarat; 900 people shifted to safer places 
Heavy rains marooned many residential and low-lying areas in Navsari and Valsad districts besides parts of Surat city in Gujarat on Friday. 
According to officials, 900 people have been shifted to safer places following heavy showers that have been lashing several parts of south and central Gujarat since Wednesday. 
Teams of the National Disaster Response Force (NDRF) have been deployed at ten locations in the state. 
South Gujarat region, particularly Valsad, Surat and Navsari districts, have been bearing the brunt of downpour since early this morning, leading to water logging on roads and overflowing of rivers which has affected normal life. 
As per the state emergency control room, parts of Saurashtra region also received heavy showers on Thursday.
State Relief Commissioner Manoj Kothari said 19 people have died in the state since June due to various rain-related 
accidents like lightning and electrocution. 
Kothari said teams of the NDRF have been deployed at ten different locations to carry out relief and rescue operations. "We have shifted around 900 people to safer places following incessant rains in south Gujarat during the last two days," he said. 
The official said high tide had prevented the river water from flowing into sea in the region this morning. "However, water has started receding since evening in south Gujarat," Kothari added. 
In Saurashtra, heavy rainfall was recorded in Una and Kodinar talukas of Gir Somnath district. Showers have also lashed parts of Bhavnagar and Amreli this morning. 
As per the data released by the state government, Waghai taluka in Dang district on Friday received the highest rainfall in the state at 121 mm between 8:00 am and 6 pm. Waghai was followed by Kodinar (115 mm), Surat city (107 mm), Talaja taluka in Bhavnagar (100 mm) Bharuch taluka in Bharuch district (96 mm), Dolvan taluka in Tapi district (95 mm), Savarkundla taluka in Amreli (93 mm) and Choryasi taluka in Surat (93 mm). Vansda, Jalalpore and Navsari talukas in Navsari district received the rainfall at 91 mm, 78 mm and 78 mm, respectively, in the ten hours on Thursday. Dharampur and Kaprada talukas in Valsad district received rainfall at 76 mm and 68 mm, respectively, between 8 am to 6 pm. Vadodara, Chhota Udepur and Bharuch districts in central Gujarat also received heavy showers. 
Due to incessant rain, 197 roads, including a national highway and three state highways in central and south Gujarat, have been closed for traffic, a government release stated. "Due to downpour, one national highway and two statehighways passing from Dang district have been shut for traffic while one state highway was closed in Navsari this morning," it said. 
The meteorological centre here has predicted heavy to very heavy rainfall in south and central Gujarat in the next 24 hours and "extremely heavy rainfall" in Valsad, Surat and Navsari. 
5. Assam flood situation grim; CM asks NEEPCO not to release water from Ranganadi dam 
The flood situation continued to remain grim in Assam on Friday, with over 24,000 people being affected in three districts, officials said. 
The flood situation remained unchanged during the last 24 hours with 24,226 people of 35 villages affected across Lakhimpur, Dhemaji and Biswanath districts, the daily bulletin of the Assam State Disaster Management Authority (ASDMA) said. 
Meanwhile, Chief Minister Sarbananda Sonowal reviewed the flood situation in the worst hit Lakhimpur district and asked the state owned power utility North Eastern Electric Power Corporation (NEEPCO) not to release water from its Ranganadi dam without warning. 
"In view of the deluge in Lakhimpur district created by sudden release of excess water by NEEPCO from its Ranganadi dam during previous years, Sonowal strongly warned the NEEPCO authorities not to repeat the mistake this year," a release from the Chief Minister's Office said. 
The total number of persons losing their lives in flood in the state stands at 34. 
Earlier on Thursday, a population of 24,244 was affected by the flood waters in 33 villages of Dhemaji, Lakhimpur and Jorhat districts. 
The ASDMA report said, Lakhimpur is the worst affected district with over 16,600 sufferers, followed by Dhemaji with over 6,000 people affected in the deluge. 
The CM also said that lack of planning on the NEEPCO's part in making the dam incapable of holding much water results in inundation of Lakhimpur till October-November every year. 
He said the NEEPCO authorities should be "prepared for paying for the losses of the people affected by flood caused by Ranganadi dam's water in the coming days".
6. Odisha likely to experience rains as two LOPAR form in Bay of Bengal 
Odisha is likely to experience moderate to heavy rainfall this week as two low pressure areas (LOPAR) are being formed in the Bay of Bengal, India Meteorological Department (IMD) said on Thursday.
"A low pressure area is very likely to form over north Bay of Bengal and neighbourhood during next 24 hours and another low pressure area is likely to form over north Bay of Bengal and neighbourhood around July 16," IMD said its latest 
bulletin. 
IMD also warned that heavy rainfall likely to occur at one or two places over the districts of Kendrapara, Jagatsinghpur, Jajpur, Dhenkanal,Cuttack, Puri, Khurda, Nayagarh, Angul, Bauda, Kandhamal, Sonepur, Sambalpur and Ganjam. 
Director of the Centre for Environment and Climate (CEC) at the SOA university, S C Sahu said that the LOPAR expected on Saturday will cause moderate rainfall at many places with heavy rainfall at a few locations till July 18.
"Formation of another low pressure was likely on July 19 over the northwest Bay of Bengal which may cause moderate to heavy rainfall at many locations in north Odisha districts up to July 22," Sahu said adding that precipitation would be light to moderate in the states southern districts. 
Meanwhile, rainfall has occurred at many places with heavy rainfall at one or two places in the state. Highest rainfall of 9 cm was recorded at Ambadola in Rayagada district followed by 7 cm each at Jaleswar in Balasore district, Jeypore in Koraput district and 6 cm rainfall at Thakurmunda 
in Mayurbhanj district, the IMD said.
7. 100 NDRF teams deployed in 71 locations across 14 flood-affected states for rescue and relief operations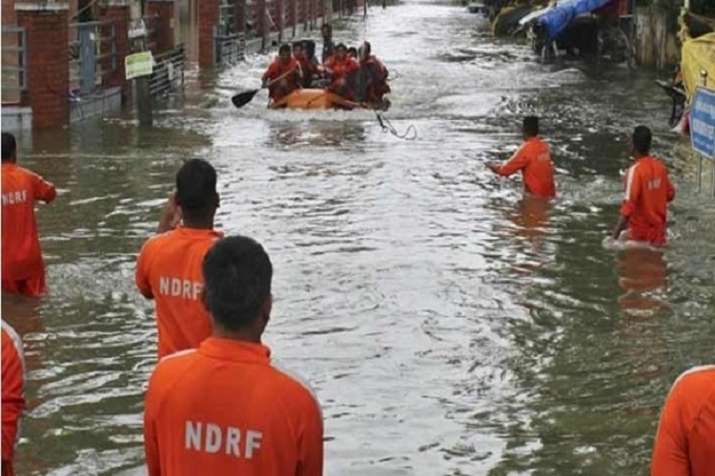 The National Disaster Response Force (NDRF) has deployed 97 teams at 71 locations in at least 14 states across the country for rescue and relief operations of flood affected people. 
The force is in constant touch with the India Metrological Department (IMD), the Central Water Commission (CWC) and other agencies. Battalion commanders are in touch with state authorities to render all possible assistance in time of crisis, the official said. 
ALSO READ| 100 NDRF teams deployed in 71 locations across 14 flood-affected states for rescue and relief operations
A 24x7, NDRF control room in Delhi is closely monitoring the situation round-the-clock. 
The deployment has been made with keeping in view the vulnerability profile and in consultation with the state and local administration.