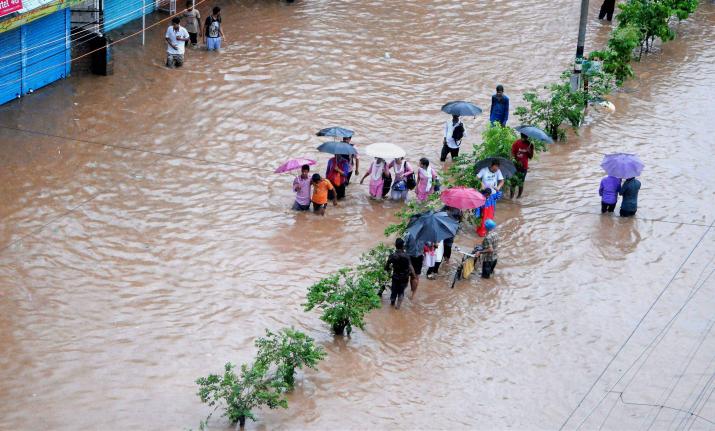 The National Disaster Response Force (NDRF) has deployed 97 teams at 71 locations in at least 14 states across the country for rescue and relief operations of flood affected people. 
The force is in constant touch with the India Metrological Department (IMD), the Central Water Commission (CWC) and other agencies. Battalion commanders are in touch with state authorities to render all possible assistance in time of crisis, the official said. 
A 24x7, NDRF control room in Delhi is closely monitoring the situation round-the-clock. 
The disaster emergency force is fully geared up to face any eventuality arising due to floods and has mobilised its resources at vulnerable locations across the country. 
To mitigate the impact of the disasters which may be triggered due to heavy rains during the monsoon season, the NDRF has deployed its rescue and relief teams in vulnerable areas across the country, the official said. 
The deployment has been made with keeping in view the vulnerability profile and in consultation with the state and local administration. 
Meanwhile, NDRF teams have evacuated 68 people from Manikpur and 411 from Nalasopara, Palghar in Maharashtra to safer places, another official said. 
Water level had risen in low lying areas in Palghar due to incessant rains.
All you need to know about NDRF
The NDRF has established itself as visible and reliable response force to provide specialist response during disasters be they natural or man-made. NDRF is one of its kinds of single largest stand-alone disaster response force in the world.
In a short span of nine years, NDRF has continued to win hearts of millions of countrymen, by demonstrating its expertise and compassion while handling disaster situations.
NDRF consists of 12 battalions, three each from the BSF and CRPF and two each from CISF, ITBP and SSB. Each battalion have 18 self-contained specialist search and rescue teams of 45 personnel each including engineers, technicians, electricians, dog squads and medical/paramedics. 
The total strength of each battalion is 1,149. All the 12 battalions have been equipped and trained to respond natural as well as man-made disasters. Battalions are also trained and equipped for response during chemical, biological, radiological and nuclear (CBRN) emergencies. Additional teams are also on standby in all NDRF battalions and will be mobilised as per demand. 
These NDRF battalions are located at 12 different locations in the country based on the vulnerability profile of country and to cut down the response time for their deployment at disaster site.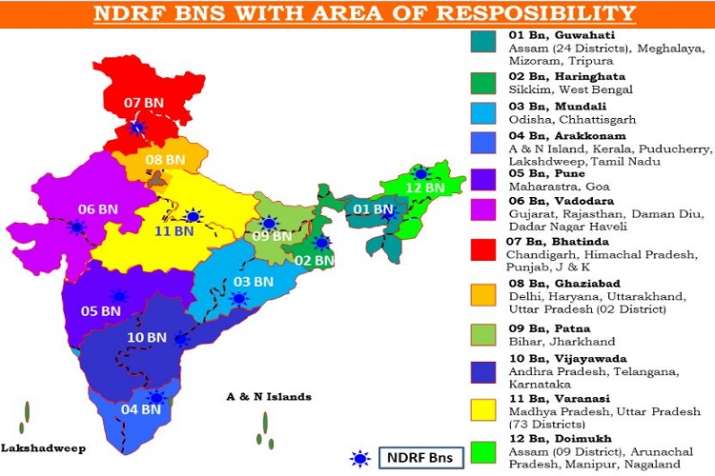 (With inputs from PTI)