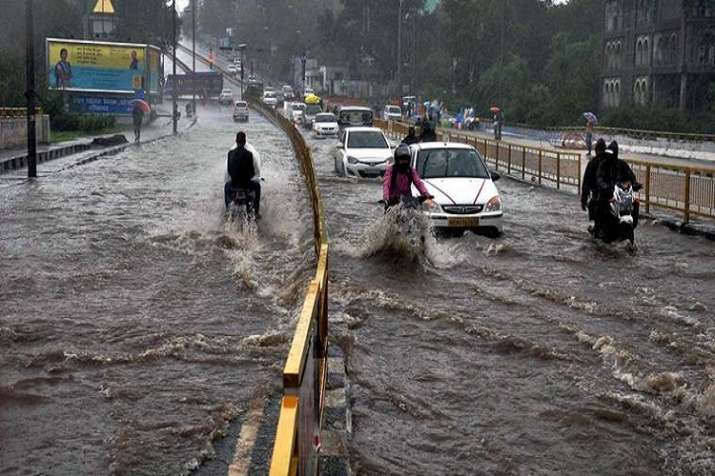 Heavy rains lashed parts of Madhya Pradesh on Thursday, including the state capital, where major water logging created hardships for the people. In Bhopal, which recorded 11 cm rainfall in 24 hours till 8 am on Thursday, the low-lying areas were flooded due to overnight downpour.
 Mayor Alok Sharma sat on a chair in the middle of a waterlogged road near Saifia College in the city to take stock of the situation. 
"Khandwa district and Mhow in Indore district recorded the highest rainfall of 15 cm in 24 hours till 8 am on Thursday," said Dr G D Mishra, senior meteorologist of India Meteorological Department (IMD), Bhopal. 
While many schools in Bhopal remained shut due to the downpour, those that were open witnessed thin attendance as most of the children could not reach their schools due to flooded roads. People could be seen wading through waist-deep water in the morning to reach their destinations. 
According to Dr G D Mishra, "Bhopal, Indore, Jabalpur and Gwalior divisions received heavy rains in the 24 hours and Torrential rains are likely in parts of 22 districts of Madhya Pradesh, including Bhopal and Jabalpur, in the next 24 hours," he said. 
The overnight spell of rains inundated many parts of Bhopal, following which power supply in some parts of the old city area of Bhopal was snapped. Mayor Sharma, who sat on a chair in knee-deep water to monitor the situation, called up the divisional commissioner and asked him to organise a meeting to discuss the situation. He told the official that immediate steps need to be taken so that no untoward incident takes place due to water-logging.