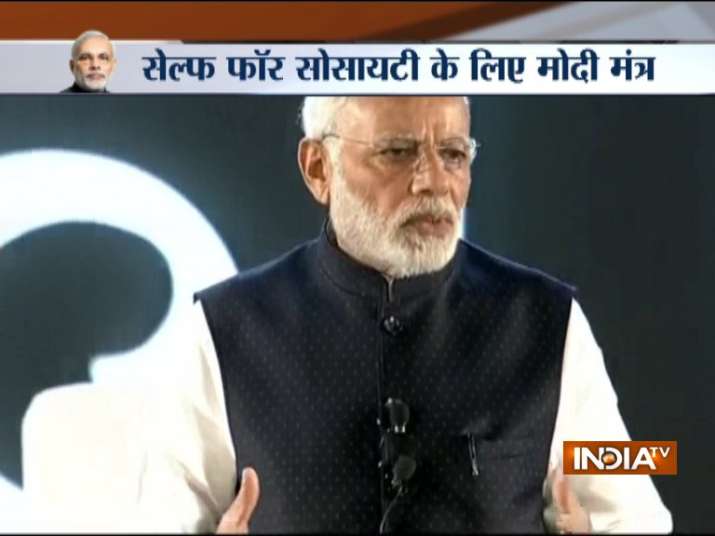 "On many occasions, what sarkar (government) can't do, sanskar (culture) can do. Let us make cleanliness a part of our value systems," Prime Minister Narendra Modi said on Wednesday.  Addressing IT professionals and tech honchos in a townhall event in New Delhi, PM Modi asked citizens and the tech community to think how they can add value to society through social efforts.
"In our country, the general image is to abuse businessmen, industrialists. I don't kow why it is so but it has become a fashion. This is not a line of thought I agree with," the PM said.
PM Modi also launched the 'Main Nahin Hum' portal and app on the occasion. The portal will work on the theme 'Self for Society' will enable IT professionals and organizations to bring together their efforts towards social causes, and service to society, on one platform. 
WATCH: PM Modi's interaction with IT professionals 
PM Modi speech: Highlights
# On many occasions, what Sarkar can't do, Sanskar can do. Let us make cleanliness a part of our value systems.
# This team is also working to create rural digital entrepreneurs and are making efforts to improve digital literacy.
# Important to create an India where everyone has equal opportunities. Inclusive growth is the way ahead.
# We have become very careless when it comes to consumption of water. In order to learn about water conservation, I urge everyone to visit Porbandar in Gujarat, and see the home of Mahatma Gandhi. We need to conserve water and recycle water too.
# Through volunteering efforts, a lot can be done in the agriculture sector. Youngsters must venture our and work for the welfare of farmers.
# More people are paying taxes because they have faith that their money is being used properly and for the welfare of people.
# The symbol of the Swachh Bharat Mission is the specs of Bapu, the inspiration is Bapu and we are fulfilling Bapu's vision.
# It is essential to step out of our comfort zone. There is so much to learn and discover
# There are many start-ups in the social sector. More power to youngsters doing such wonderful things.
# I am seeing that India's youngsters are leveraging the power of technology wonderfully. They are using technology not only for themselves but also for the welfare of others. I see this as a wonderful sign.
# Let us think about how we can use our strengths to bring a positive difference in the lives of others.
# Every effort, however big or small, must be valued. Governments may have schemes and budgets but the success of any initiative lies in public involvement.