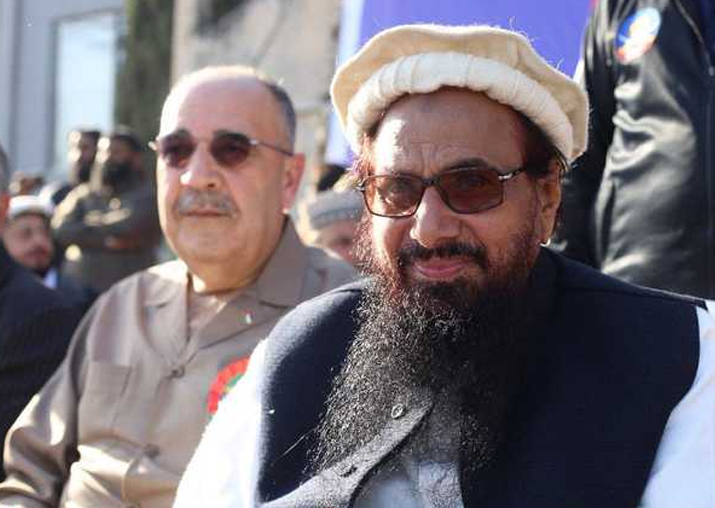 Palestine has recalled its Ambassador in Pakistan after India strongly conveyed to the Palestinian that the envoy's presence at JuD terrorist Hafiz Saeed's rally was unacceptable.
Palestinian Ambassador to India Adnan Abu Al Haija confirmed that Walid Abu Ali has been recalled by the administration following India's objection.
Asserting that Ali's action was not "acceptable" given the close and friendly ties between India and Palestine, Haija said that Ali has been given couple of days to pack and return from Islamabad. 
"The Palestine government has told Ali that he was not anymore its envoy to Pakistan," Haija said. 
The development comes hours after India lodged protest with Palestine over its Pakistani envoy sharing dais with Hafiz Saeed in Pakistan.
Earlier today, the Ministry of External Affairs said that "the concerns were conveyed both in New Delhi to the Palestinian Ambassador and in Ramallah to the Minister of Foreign Affairs and Expatriates, State of Palestine".
The MEA release said that Palestinian side has conveyed "deep regrets" over the incident and assured India that they are taking serious cognisance of their ambassador's presence at this event. 
Palestine has decided to recall its Ambassador to Pakistan, Walid Abu Ali, for sharing stage with Hafiz Saeed, confirms Palestinian Ambassador to India Adnan Abu Al Haija

— ANI (@ANI) December 30, 2017
"They have said they will deal with this matter appropriately. It was also conveyed that Palestine highly values its relationship with India and stands with us in the war against terrorism, and will not engage with those who commit acts of terror against India," it said. 
The government takes note of the assurances given by the Palestine side, it added.
According to reports, Walid Abu Ali had recently attended a large rally organised by the Difa-e-Pakistan Council in Rawalpindi. Difa-e-Pakistan (Defence of Pakistan) Council (DPC) is an alliance of Islamist groups in Pakistan, including Saeed's outfit.
The presence of the Palestinian envoy at JuD's event was seen as a setback for India because New Delhi had last week voted for a UNGA resolution against the US decision to recognise Jerusalem as the Israeli capital. 
The stand taken by India at the UNGA carried the risk of irking US President Donald Trump who had threatened countries voting against his decision.
Prime Minister Narendra Modi is likely to visit Palestine in February next year. The visit may take place around the World Government Summit in UAE, where India has been invited as a guest country. PM Modi is scheduled to be in UAE for the meet scheduled for February 11-13.