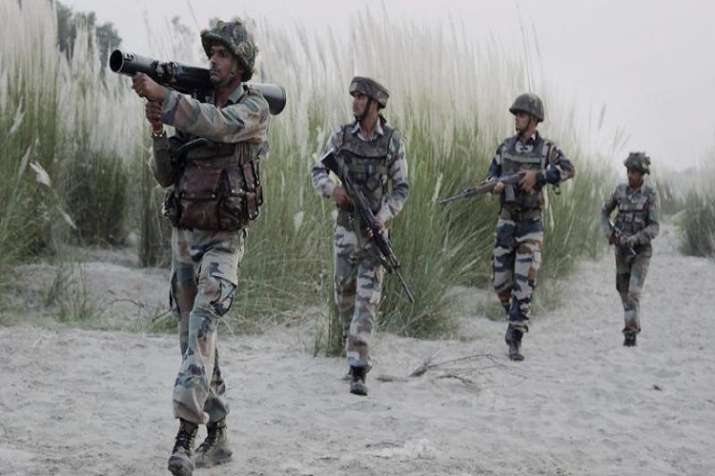 In yet another violation of ceasefire, Pakistan resorted to unprovoked firing along Indo-Pak International Border in Jammu on Friday, claiming the life of one Border Security Personnel (BSF) and four civilians and injuring 12 people.
The BSF jawan has been identified as Constable Sitaram Upadhyay. According to news agency ANI, he hails from Jharkhand & is survived by a three-year-old daughter and a one-year-old son.
Photo of BSF Constable Sitaram Upadhyay, who lost his life in ceasefire violation by Pakistan in RS Pura sector of #JammuAndKashmir. He hails from Jharkhand & is survived by a three-year-old daughter and a one-year-old son. pic.twitter.com/ViHqGi5Rzc

— ANI (@ANI) May 18, 2018
"Firing in Heeranagar area was on during the intervening night of May 16 and 17 in which one BSF trooper was injured. Yesterday, during the daytime, it stopped but Pakistan resumed firing last night in the Arnia sector which claimed the life of a jawan early today," a senior official of the border guarding force said.
 
The official added that in the RS Pura sector of the IB in Jammu, unprovoked shelling of mortars and heavy fire from the Pakistani side started at about 4 am on Friday which was being "suitably countered" by the BSF units. 
"The firing in the RS Pura sector has stopped now," he said. 
Following the ceasefire violation, the schools within a three-kilometer radius of International Border have been declared closed by the administration.
Pakistan Rangers increased the arch of mortar shelling to R S Pura, Bishnah and Arnia sectors of Jammu by resorting to heavy mortar shelling and firing in these sectors.
In heavy Pakistan shelling in R S Pura and Arnia sectors, four civilians including a couple were killed and 12 others injured, Additional District Development Commissioner Arun Manhas told PTI. 
SDPO, R S Pura, Sahil Prashur said police is using bullet-proof vehicles to evacuate the injured to the hospital and is reaching out to the people in shelling-hit zones. 
In view of the shelling, the administration has activated the shelter set up. 
However, there was a lull in the shelling in Kathua and Samba districts. 
"There was no firing and shelling from across the border since yesterday in Kathua and Samba districts", the officer said.
This is the second case of ceasefire violation within three days. Earlier on Wednesday, another BSF soldier was killed in ceasefire violation by Pakistani army along the International Border in Samba district.
The latest ceasefire violation comes just a day before Prime Minister Narendra Modi's visit to Jammu and Kashmir. It also comes two days after the Centre agreed to Jammu and Kashmir Chief Minister Mehbooba Mufti's proposal for ceasefire in the state during the holy month of Ramadan.
Meanwhile, the wife of the slain BSF jawan expressed grief and angst over the unprovoked firing."India asked security forces not to launch operations during Ramzan but my husband was killed in firing by Pak. What'll happen by offering compensation? It'll not bring back my husband", she told ANI.
India asked security forces not to launch operations during Ramzan but my husband was killed in firing by Pak.What'll happen by offering compensation?It'll not bring back my husband: Wife of BSF's Sitaram Upadhyay, who lost his life in ceasefire violation by Pak in J&K's RS Pura pic.twitter.com/nzAD6TJV5B

— ANI (@ANI) May 18, 2018
 Watch the full video here: