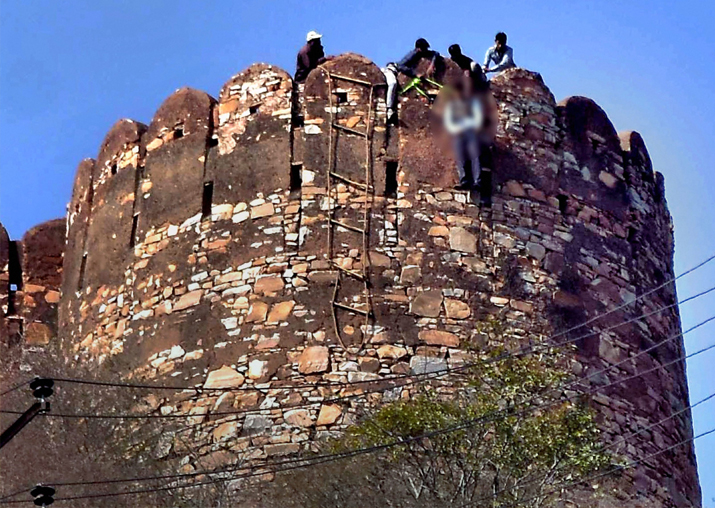 In a major development in the mysterious death case of Chetan Saini, whose body was found hanging at Jaipur's Nahargarh Fort with messages denouncing "Padmavati" movie scribbled on rocks nearby, the Forensic Science Laboratory (FSL) on Saturday said that they have not found any evidence indicating he was murdered. 
According to the FSL report, Saini committed suicide by hanging. Last month, Saini was found hanging from the ramparts of Nahargarh Fort in the city. 
According to a Times of India report, the FSL team examined at least half-a-dozen items, including his mobile phone, shoes, nylon rope and, most importantly, the handwriting found on the walls of the fort, over the last two weeks. 
It said that none of the samples collected from the spot as well as those given by the police, indicated that it was a murder.
The FSL report further claimed that the handwriting, found on the floor and the walls of the crime spot, matched with the samples of the deceased, which were provided by the police. 
According to the police, Saini had written various comments related to the controversial film 'Padmavati' on the fort walls prior to his death. 
Earlier, the latest post-mortem report, exclusively available with India TV, had mentioned hanging as the cause of death, and also stated that at the time of hanging, Chetan Saini was unconscious. 
The report also mentioned the presence of several injury marks on Chetan's face. It further stated that there were two types of ligature marks found on Chetan's neck whereas hanging causes only one  kind of ligature marks.
Also, the neck bone of Chetan was not broken, whereas hanging from such a height breaks the neck bone first.
On November 24, local residents had spotted Chetan's body hanging from one of the walls of Nahargarh fort with messages against Sanjay Leela Bhansali's film 'Padmavati' scribbled on rocks nearby.
Police said that they mobile phone was recovered from one of his trouser pockets along with other things, including his wallet.
The message, written on stones near the fort wall adjacent to the body, read, "Hum putle nahin jalate....latkate hain" (we don't burn effigies, we hang them).
"'Padmavati' ka virodh karne walon hum kile par sirf putle nahin latkatea. Hum main hai dum. (Those protesting against 'Padmavati' don't just hang effigies from the fort walls. We have guts)".