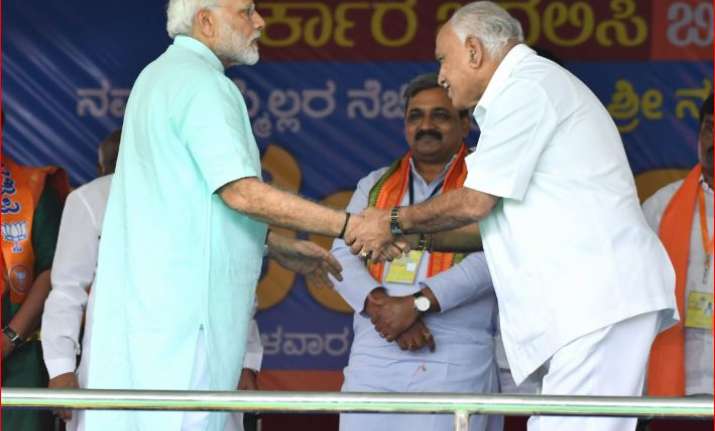 Upbeat over huge gathering in Prime Minister Narendra Modi's election rallies on his first day of campaigning in Karnataka, BJP's chief ministerial candidate B S Yeddyurappa on Wednesday said that his becoming chief minister was "inevitable" and no one need to have any doubts about it.  
Exuding confidence over the BJP forming the next government in the state, Yeddyurappa claimed that his swearing-in will take place on either May 17 or 18.
"May 17 is Thursday and May 18 is Friday. We have to look at the convenient time of the prime minister. Chief ministers of other states too will attend the event," Yeddyurappa told party workers.
"My oath taking at Vidhana Soudha as the chief minister of Karnataka is inevitable. Nobody should have any doubt about it," he added.
Yeddyurappa told the cheering crowd that there is no confusion that Karnataka election results will be a replay of UP election results.
He also said that impetus to development activities would be among his government's priorities.  
"We are releasing our manifesto on May 4. We will waive farm loans from nationalised banks. We will take up the development works you are expecting from the government," Yeddyurappa said. 
Huge crowds had thronged the public meetings addressed by Prime Minister Narendra Modi at Santhemarahalli, Udupi and Chikkodi on Tuesday.
In his all three rallies on Tuesday in poll-bound Karnataka, PM  Modi launched blistring attack on Congress President Rahul Gandhi, former prime minister Manmohan Singh and state Chief Minister Siddaramaiah.
The prime minister is scheduled to address a total of fifteen election rallies in the state.