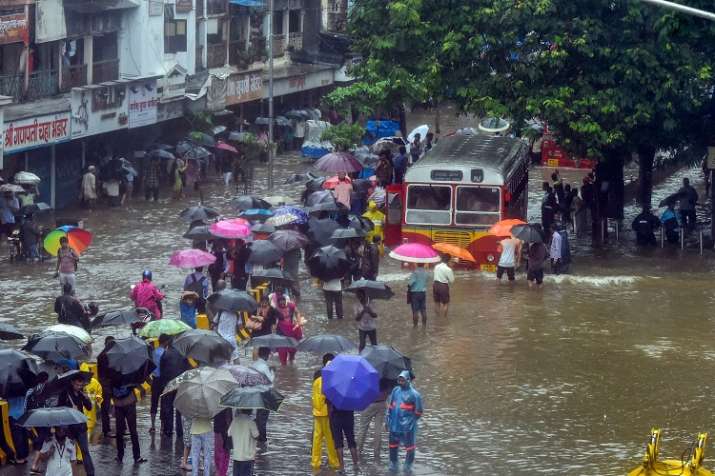 Heavy rains continued to lash Mumbai city and its adjoining areas for the fourth consecutive day on Tuesday, disrupting normal life. The magnitude of the rains were such severe that boats were seen on roads.
Suburban services were suspended on a section of the Western Railway (WR) due to waterlogging on tracks and several long-distance and inter-city express trains were delayed or cancelled, officials said. 
The downpour flooded many roads and streets in low-lying areas of the city and its adjoining districts of Palghar and Thane. People at some places were seen wading through waist-deep water. 
The India Meteorological Department (IMD) has predicted heavy to very heavy rain till Thursday. 
1. Rail services disrupted
Suburban services were suspended on a section of the Western Railway (WR) due to waterlogging on tracks and several long-distance and inter-city express trains were delayed or cancelled, officials said. 
Since Monday night, over 200 mm rainfall has been recorded and this has led to waterlogging on rail tracks, a railway official said.
 
Keeping in view the safety of passengers, services on the fast track between Vasai and Virar in Palghar district and that of the air-conditioned local trains have been suspended till the water level on tracks recedes, he said.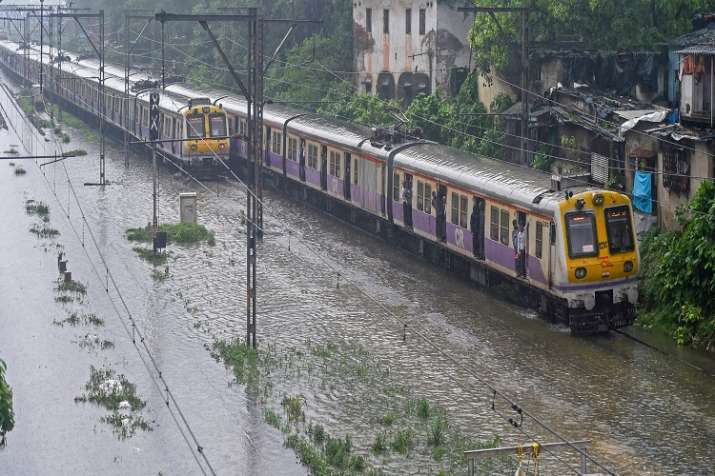 "Services of AC local have been suspended today in view of very heavy rains & water logging at/around Nallasopara, till further information," the Western Railway (WR) said in a tweet. 
"Water very high from rail level at Nallasopara following heavy water accumulation in adjoining areas of tracks. Rail traffic suspended bet (sic) Vasai Road - Virar. Trains running between Churchgate & Vasai Road with delay," the WR said in another tweet. 
However, the slow track services were operational between Churchgate in south Mumbai and Virar. Trains were running late by 10 to 20 minutes, the railway official said, adding that pumps were being used to drain out water from tracks. 
In view of the flooding on rail tracks, the WR terminated and cancelled nine outstation trains, he said. 
Arrangements were being made to provide snacks and water to passengers of the long-distance trains that were delayed or stopped at various stations, the official said.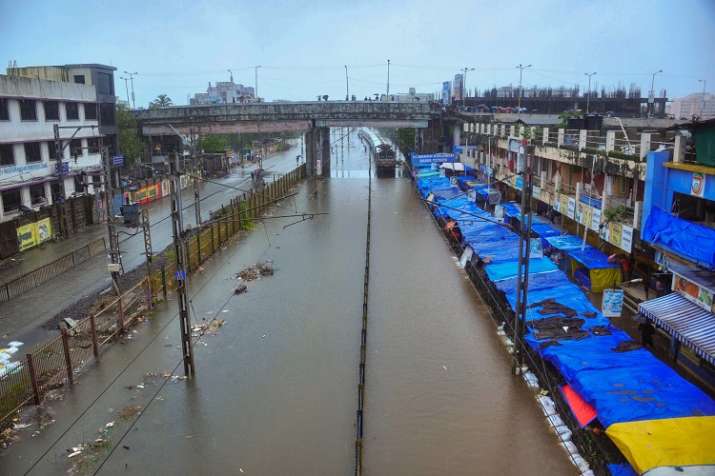 The Central Railway's local train services on its main and harbour lines were running late by 15 to 25 minutes, a CR official said. 
Three inter-city express trains were also cancelled, he said. 
The heavy rainfall that lashed the maximum city on Tuesday has crippled the Western Railway's services. Premium trains, including August Kranti Rajdhani Express and Rajkot - Mumbai Duronto Express stood cancelled. Several other trains were rescheduled, while passengers of Vadodara express were stranded near Nalasopara station with up to 400mm water levels on tracks. 
The power supply of a Shatabdi Express had to be cut off temporarily as a precautionary measure, while food packets and snacks were distributed among passengers of various trains.  
Around 2000 passengers of two Mumbai-bound long distance trains that got stuck between Nallasopara and Vasai stations of Western Railway early on Tuesday due to water-logging of tracks had a harrowing time before they were rescued in a joint operation by the NDRF and police. 
In a joint operation, the National Disaster Response Force (NDRF), the police and fire brigade personnel have rescued all the 2000 passengers from Mumbai-bound Shatabdi Express and Vadodara Express, a Palghar district official said. 
The Vadodara Express (12928) which departed Vadodara Junction last night was expected to reach its destination  Mumbai Central at 4:45 am on Tuesday.
Palghar district residential collector Dr Navnath Jare told PTI that water level between Nallasopara and Vasai stations rose to more than two metres due to heavy rains and a high tide this mornning. 
"We have called an NDRF team comprising 43 personnel along with six boats to the spot. They are helping personnel of police and fire brigade," Jare said. 
He said some passengers were stuck in Vadodara Express since 4 this morning. "As of now we have rescued almost all 2000 passengers from both the trains," the officer said. 
2. Heavy rains hit Palghar, adjoining areas
Palghar district had received extremely heavy rainfall at 240 mm from 8.30 am on Monday to 8:30 on Tuesday, which collided with a high tide. 
More than 30 state transport (ST) buses arranged for moving out the stranded passengers broke down due to water-logging in Vasai and neighbouring areas. 
The NDRF team and local authorities are taking all therescued passengers to Vasai station from where they are being shifted in local trains, he said, adding that special buses have also been arranged to transport these passengers. 
Another district official said that more than 400 people who were marooned in various villages in Palghar district due to water-logging have been rescued by personnel of fire brigade, police and local people since Monday.
Areas like Vasai Mithagar (salt pan), Bhoidapada, Wagralpada, Rajavali were inundated due to incessant rains that pummelled the district in the last two days. 
Among the rescued people was a pregnant woman who needed urgent medical attention, the official said, adding that the woman was rescued from Mithagar area in a boat and was shifted to hospital by police and fire brigade personnel.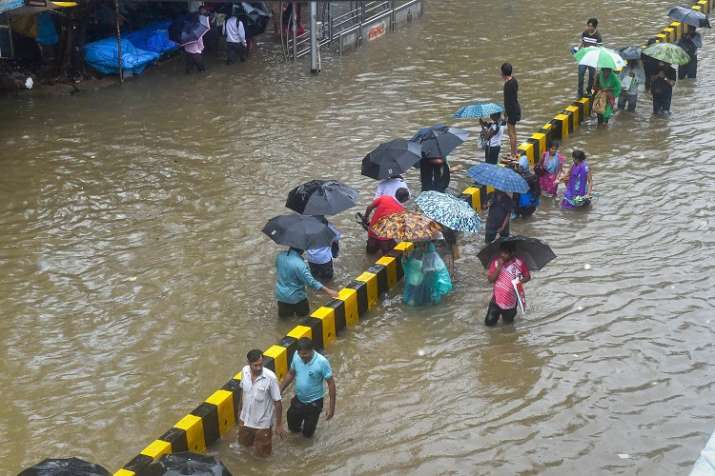 Various authorities have rescued 400 people from Mithaghar, 66 from Manickpur area in Vasai town, and around 60 people from Rajavali village today, said the spokesperson of Palghar Police. 
"They are shifted in safe shelters like schools, colleges, temples and community centres. Local authorities are providing food to them," he said. 
The electrical sub-station in Vasai is under water due to which power supply in the town has been affected. 
Around three lakh residents are affected due to the power shutdown, a district official said. He said the lack of electricity is hampering rescue 
operations as authorities cannot operate the equipment that run on power. In a multi-agency operation, authorities of the state 
disaster control room are tackling coordination.  
3. Dabbawalas suspend sevices for the day
The rains also affected Mumbai's famous tiffin carriers Dabbawalas, who are known for their on-time delivery service. They suspended their services on Tuesday.
4. BEST Buses divert routes
Multiple Brihanmumbai Electric Supply and Transport (BEST) buses were diverted from their usual route due to floods. Low lying areas of Dharavi, Matunga, Parel, King's Circle, areas in Thane district, Virar and Vasai, Dadar, Sion, Vidyavihar, Andheri, Jogeshwari suburbs witnessed flooding after the rains.
Roads in King's Circle, Suman Nagar, Kurla kajupada and other places are reported to have been submerged in one feet of water. Mulund and Sonapur Junction were submerged in half a feet water. Roads were not only waterlogged, vehicles were also snarled up in traffic, while people navigated their way to offices on foot.  
No services were suspended or cancelled, as mentioned by a BEST official.
5. Air India Express aircraft overshoots runway at Mumbai airport 
As many as 89 people on board an Air India Express flight had a narrow escape on Tuesday as the aircraft overshot the runway while landing at the Mumbai airport amid heavy rains. 
The Boeing 737-800 aircraft arriving here from Vijaywada stopped 10 feet beyond the end of the runway on the paved stopway, an Air India Express spokesperson said. 
However, all passengers were safe and there was no damage to either the aircraft or the runway, the airline said.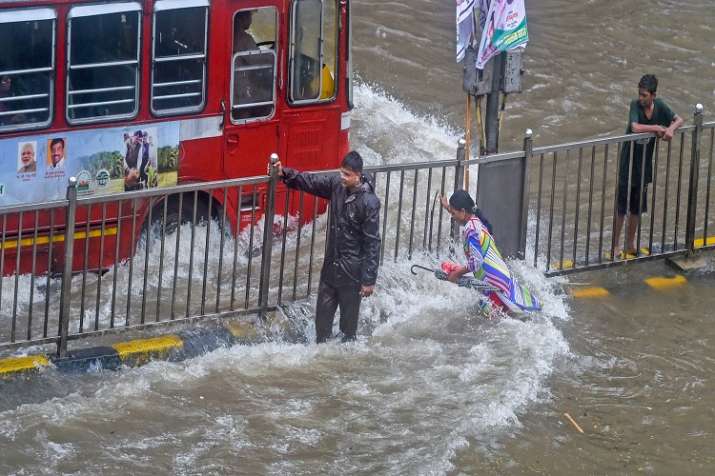 6. Santa Cruz recorded 106 mm rainfall since morning 
According to Skymet Weather, the Santa Cruz observatory recorded 106 mm of rain since morning. The weather situation is expected to worsen in the next few hours as IMD predicts heavy downpour over until tomorrow. The area has surpassed its monthly average quota of of 840.7 mm, which it surpassed today as the local observatory recorded 860mm rainfall. 
7. Heavy rains cause overflowing of rivers
After heavy rains, several big and small rivers, streams and ponds in the tourist hotspots like Sanjay Gandhi National Park, Tungareshwar Wildlife Sanctuary, Karnala Bird Sanctuary, Tansa Forest Sanctuary and Yeoor Hills besides Vaitarna, Surya and Ulhas rivers overflowed.
8.  Govt closely monitoring situation, says CM Devendra Fadnavis
The Maharashtra government is keeping a close watch on the situation in Mumbai and its neighbouring areas, especially in Palghar district, following heavy rains, Chief Minister Devendra Fadnavis said on Tuesday.
Palghar district has received unprecedented rainfall, he said in the Legislative Assembly in Mumbai. 
The National Disaster Response Force (NDRF) and the Navy are on standby. The state disaster management cell is conducting operations on the ground, Fadnavis informed the House. 
The Palghar district administration is on alert and arrangements are being made to help the affected people, he said.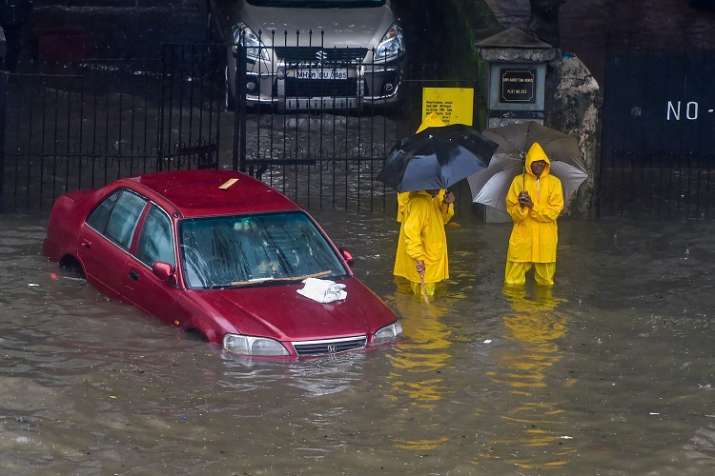 The chief minister said in Mumbai, waterlogging has been reported from 11 places and traffic diverted in three areas. 
Due to waterlogging in the Vasai-Virar area, the suburban western railway line has been affected, Fadnavis said. 
Currently, there is a high tide (off the coast of Mumbai), he said, adding that suction pumps are functioning at full capacity. 
The chief minister said an additional 150 pumps have been deployed to drain out rain water from flooded areas. 
"The state administration is monitoring the situation and keeping a close watch to ensure people do not face any hardship," Fadnavis said. 
He said if necessary, a holiday will be declared for schools as the weather department has predicted very heavy rains for the next three to four days. 
"If necessary, the government will take an appropriate decision," Fadnavis said. 
For students who could not reach colleges for admission due to rains, the time limit for the process will be extended, he said.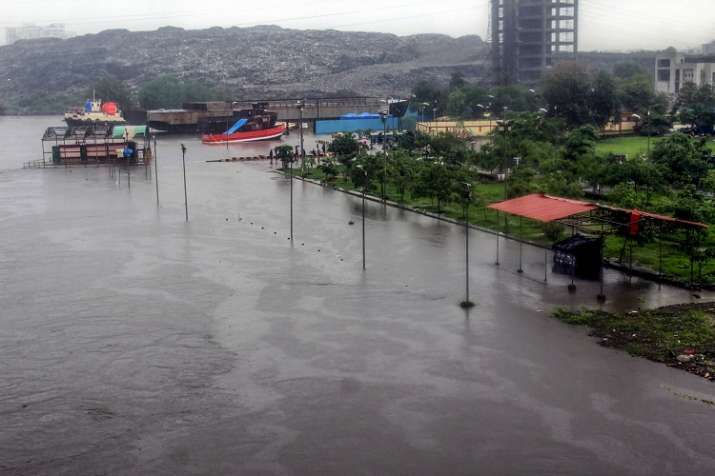 As soon as the House assembled for the day's proceedings, Leader of Opposition Radhakrishna Vikhe Patil sought to know what steps the government was taking to ease hardships of people in Mumbai and its neighbouring areas. 
He said about 300 mm rainfall was recorded in Mumbai. 
The metropolis and its adjoining areas are being pounded by heavy rains for the last two days. 
In Palghar district, 400 people were stranded and communication to 40 villages was cut off. Defence helicopters also could not take-off for relief and rescue work due to the inclement weather, Patil said. 
NCP leader Ajit Pawar urged the chief minister to direct the Mumbai suburban and city guardian ministers to go back and supervise operations of the disaster management cell. 
He said as the chief minister is in Nagpur, the local administration has been alert and vigilant. 
The city experienced heavy rain last week, Pawar said. 
Six people were killed in the last 72 hours due to the rains in Mumbai. In a recent video doing the rounds on social media, a woman who fell off a bike that hit a pothole can be seen getting crushed under a bus. The video was captured on a CCTV camera. A wall collapsed near Sandhurst Road railway station and a portion of a three-storey building collapsed in Kurla. Not only is there a significant hindrance to the functioning of civic amenities, there appears to be a threat to lives as well.
The situation appears to be grim as the Met has forecasted more rains in the next few days. The National Disaster Management Authority (NDMA) has also issued warning for Assam, Goa and Uttarakhand, along with Mumbai. Met has issued a five-day weather alert for Konkan, Goa and Vidarbha.
WATCH VIDEO: