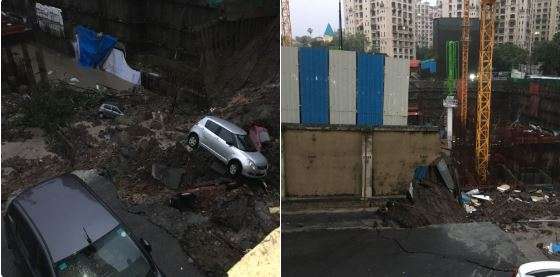 Incessant rainfall in Mumbai overnight has thrown life completely out of gear with suburban Malad (west) recording the highest amount of shower. Indian Meteorological Department (IMD) said that the area received 110.80 mm of rain between 8:30 am and 4:30 pm on Sunday. Powai, with 77.80 mm of rainfall, and Mulund (west), with 76 mm rainfall, during the same period stood second and  third respectively, the IMD further said. Coastal areas of the city like Colaba, Mazgaon and Worli received less rainfall in comparison. 
The IMD explained, "Synoptic analysis indicates that the offshore trough at mean sea level runs from  south Gujarat coast to Kerala coast. A cyclonic circulation lies over south Konkan and its neighbourhood and another cyclonic circulation lies over north Konkan and adjoining south Gujarat." 
Mumbai rain : As it happened
1:17 pm: In Mumbai, a huge part of a compound caved-in at Antop Hill area in Wadala. Around 15 cars were damaged with some vehicles getting buried under the debris.
12:53 pm: In another incident, a 65-feet compound wall of a housing complex in Thane city collapsed this morning, crushing two cars and another vehicle.
12:30 pm: A 13-year-old boy was killed and his parents were injured when an adjacent wall collapsed on their house at Wadol village in Ambernath taluka of Thane around 2.15 am today.
12:00 pm: Two persons were killed last evening when a tree fell on them near Metro Cinema in south Mumbai.
11:30 am Traffic moving at a snail's pace in Mumbai-Ahmedabad highway
9: 58 am A wall collapsed at Antop Hill, Mumbai. No casualties reported 
#Aamchimumbai #MumbaiRains #MumbaiPlasticBan #Mumbai Citizens will be punished with Rs. 5000 if seen carrying plastic bag.
Good decision
But what is the punishment for municipal corporation and corporators if you see potholes in the roads... 😒😒 pic.twitter.com/uJCZL9sAQi

— neetu vaishanav (@NVaishanav) June 23, 2018
Seven cars damaged after wall of an under construction building collapsed at Vidyalankar road in Wadala's Antop Hill following heavy rain. #MumbaiRains pic.twitter.com/h2yril46bU

— ANI (@ANI) June 25, 2018
9:50 am Tracks at Sion, Thane stations on the Central Railway line are waterlogged​
@RidlrMUM Very Heavy downpour at Mindspace Airoli. Water logging at some stretches on Thane Belapur road #MumbaiRains #Mumbai pic.twitter.com/FdngNuFfco

— Siddhesh Saki (@siddos) June 25, 2018
9:14 am Due to heavy rainfall between Thane and Byculla stations, trains on Up and Down lines running late by 15-20 minutes
#mumbairains: Fresh images from Dombivali. Expect more #rain in #Mumbai during the next 12 hours. #MumbaiRainsLive #MumbaiRain #MumbaiMonsoon pic.twitter.com/sKwpBbS6X0

— SkymetWeather (@SkymetWeather) June 25, 2018
8:50 am Colaba recorded 90 mm & Santacruz recorded 195 mm of rain at 5.30 am; Heavy to very heavy rain to continue: Indian Meteorological Department 
Hi @MumbaiPolice & @Dev_Fadnavis,

If plastic bag in our hand then govt will fine 5K to 25K but if we saw died body/accident/traffic because of potholes then who should be responsible?@smart_mumbaikar @RidlrMUM @MumbaiMirror #rain #mumbai

PC: Mumbai Meri Jaan (FB) pic.twitter.com/SZXTRGuWJs

— Wajid Khan (@wajidachalpuri) June 24, 2018
8:39 am Total rainfall in Mumbai city last 24 hours--City 96, Eastern suburb 122 mm & Western suburb 141 mm
7:45 am The intensity of rainfall is expected to decrease on Monday and only South Gujarat, Konkan and Goa may experience isolated heavy rainfall: IMD official
Heavy rain lashes #Mumbai, resulting in water-logging; Visuals from Postal Colony in Chembur East pic.twitter.com/Uej7aSVxnM

— ANI (@ANI) June 25, 2018
7:40 am Local trains running with a slight delay of 5-7 minutes
Heavy rain lashes #Mumbai; Visuals from Eastern Express highway pic.twitter.com/82iX2L6v7J

— ANI (@ANI) June 25, 2018
7:35 am Water accumulation at Sion due to continuous rain 
Maharashtra: Rain lashes parts of Mumbai. Visuals from Dharavi & Sion. pic.twitter.com/zNtZKKQF8A

— ANI (@ANI) June 24, 2018
Maharashtra: Rain lashes parts of Mumbai. Visuals from Bandra & Vile Parle area. pic.twitter.com/cs2UaAmWIy

— ANI (@ANI) June 24, 2018
(WATCH VIDEO) Heavy rains in parts of Mumbai, results in water-logging and traffic jams
Meanwhile, in a big relief for the Delhiites who are reeling under heat-wave-like conditions, the IMD on Sunday predicted that monsoon will hit the national capital anytime between June 29 to July 1.
According to the IMD and the private weather forecasting agency Skymet, Delhi will see arrival of monsoon on-time while the rainfall in Long Period Average (LPA) is not yet clear.
The monsoon's course had been subdued for over a week. However, from Sunday, it has revived and started moving towards the north, weather analysts said.
(With inputs from agencies)