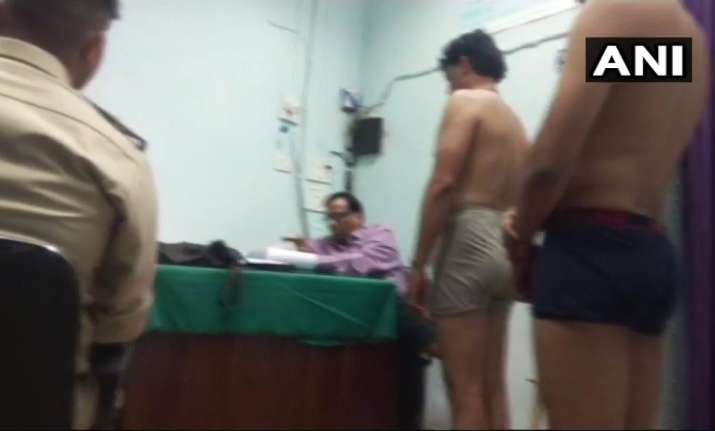 Days after the Madhya Pradesh authorities launched an investigation in the reports of alleged caste markings on the chest of police recruits in Dhar district, another shocking report has surfaced in connection with police recruitment process. 
A video has surfaced showing men and women constable recruits of the Madhya Pradesh Police undergoing medical fitness tests together in the district hospital room in Bhind district. 
As the clip gathered eyeballs on social media sites, district authorities suspended a doctor and a clerk, and ordered a probe into the incident which took place yesterday.
Also read | Madhya Pradesh: SC/ST labelled on chests of newly recruited constables during medical test
"We have learnt orthopaedic surgeon Dr RK Agrawal, surgeon Vinod Bajpai, ophthalmologist Dr RS Kushwaha, ENT specialist RN Rajoria and gynaecologist Dr Ranu Sharma examined 21 men and 18 women recruits together in the same room ahead of their formal induction in the police yesterday," district hospital superintendent Dr Ajit Mishra said.
We are taking this very seriously, strictest action will be taken against those found responsible. A probe is underway: MP CM Shivraj Singh Chouhan on discrepancies during medical examinations for the post of Police constables in Dhar & Bhind. pic.twitter.com/OlWvyTLgyo

— ANI (@ANI) May 2, 2018
Dr Agrawal and a hospital clerk, Devendra Sharma, were suspended for alleged dereliction of duty. Mishra said Sharma was suspended because he had sent the recruits together to the room instead of calling them in one after the other.
He said an inquiry has been ordered into the incident and show-cause notices have been issued to the five doctors.
Senior doctor BC Jain will conduct the inquiry.
The video footage shows men in their undergarments being examined in the presence of the women.
Mishra said some more constable recruits - men and women - were medically examined separately today in the district hospital.
A controversy erupted last week in the state's Dhar district when photos appeared in the media, showing aspirants for the post of police constables with caste categories inked on their bare chests.
The photographs carried in various newspapers showed aspirants with the terms "SC" (Scheduled Caste), "ST" (Scheduled Tribe) and "G" (General) marked with sketch pens on their chests as they queued up for their medical examination.
Dhar Superintendent of Police Virendra Singh has ordered an inquiry into the incident. 
Madhya Pradesh Chief Minister Shivraj Singh Chouhan today assured strict action against discrepancies during medical examinations in Dhar and Bhind. "We are taking this very seriously, strictest action will be taken against those found responsible. A probe is underway," MP CM told media.
Medical examinations of men and women being conducted in the same room in district hospital in Madhya Pradesh's Bhind. No female doctors present. The tests were being done as part of Police Constable recruitment pic.twitter.com/LuSwjgOTWv

— ANI (@ANI) May 2, 2018
(With inputs from agencies)
Watch video: 
Also read | NHRC issues notices to MP govt over 'SC, ST, OBC' marks on chests of new police recruits