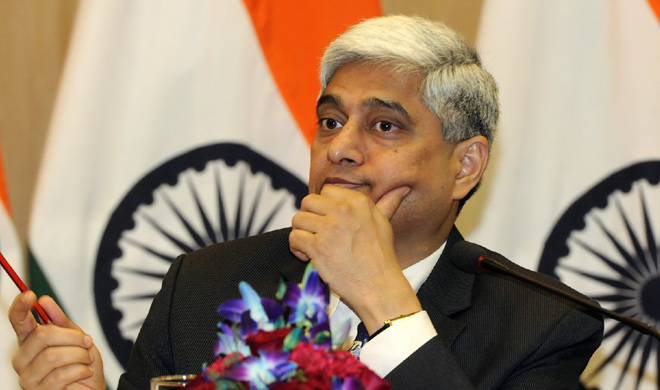 Without revealing details of India's Balochistan and PoK policy, Ministry of External Affairs today asserted that New Delhi considers people of Pakistan occupied Kashmir as its own and India will do whatever it has to do.
"India will do whatever it has to do,after all people of Pakistan occupied Kashmir are also our people."
Even after repeated posers by media on PoK and Balochistan issue, MEA spokeperson Vikas Swarup said that the plan of action cannot be shared at this stage.
"PM gave us certain instructions after the all party meet but we can't share how will they be implemented," Swarup said.
"Several people from Balochistan and PoK, including Gilgit Baltistan, had messaged him (Prime Minister), had been writing to him following his comments at the all-party meeting in which he had flagged the atrocities being committed on the people of Balochistan," Swarup said. Asserting that the Prime Minister had been thanked by these people for flagging their cause at the all-party meeting, he added that the former was sufficiently moved by their gratitude massages.
In his Independence Day speech on Monday, PM Modi lauded India's humanity and said even the Baloch people in Pakistan have thanked him for his firm stand against terror and for highlighting attacks against them by people within Pakistan.
Swarup also slammed Pakistan for not allowing UN human rights team to visit PoK adding that it is as a message in itself.
He also said that the ball was in Pakistan's court on holding Foreign Secretary-level talks as it was for Islamabad to decide on readiness to discuss issues of cross-border terrorism, vacation of illegal occupation of parts of Jammu and Kashmir and closing down terror camps.
In a response to his Pakistani counterpart Aizaz Ahmad Chaudhry's offer for talks on Kashmir, Foreign Secretary S Jaishankar said discussions should focus on cessation of terrorist activities in J&K and ending incitement to violence and terror in the Valley.
Briefing reporters, MEA Spokesperson Vikas Swarup said Jaishankar conveyed that he accepts his counterpart's invitation to visit Islamabad but made it clear the discussions should focus first on the pressing aspects of the J&K situation flagged by him.
"In a letter dated August 16, Foreign Secretary has first of all underlined that Pakistan's self-serving allegations made in their communication are rejected in their entirety by the Government of India. Pakistan has no locus standi in respect of J&K, which is an integral part of our nation," said Swarup.
Deliberations should also focus on denying safe haven, shelters and support to terrorists in Pakistan who have escaped Indian law, Jaishankar said in his letter.
"The ball is in Pakistan's court now. They had made an offer, We have responded to the offer. It is up to them to carry it forward," said Swarup.
The response also conveyed that detaining and prosecuting internationally recognised Pakistani terrorist leaders who have been publicly active in exhorting and supporting such violence in that state should be part of the talks besides closing down terrorist training camps, Swarup added.
The Foreign Secretary said he looked forward to discussing with his Pakistani counterpart the "earliest possible vacation of Pakistan's illegal occupation of the Indian state of J&K".
In his letter, the Foreign Secretary also underlined the importance of bringing to justice all those guilty in Pakistan for the attacks in Mumbai and at Pathankot airbase.
"He said that his visit should provide the opportunity to receive a briefing from Pakistan's Foreign Secretary on progress in this regard," said Swarup. 
"The world is aware that Pakistan has a long history of violence and terrorism against India, as also in the broader region," Swarup said, adding the talks between the two countries must be held as per the framework of the Simla agreement of 1972 and Lahore Declaration of February 1999.
"The Indian state of J&K has been its particular target. This record began with the Government of Pakistan sending armed raiders into J&K in 1947 and was repeated in 1965.
"More than three decades later, displaying a similar attitude, military personnel were infiltrated across the Line of Control in Kargil in 1999. This approach to India was reflected in support for terrorist activities in Jammu & Kashmir that continues to the present day.
"These acts were initially denied by  the Government of Pakistan and attributed to local population, only to be admitted later by Pakistan's leaders who directed and organised such cross-border attacks on India, and assaults on the local people," he said.
Referring to the Lahore Declaration of February 1999, he said then Prime Minister Nawaz Sharif had reiterated Pakistan's determination to implement the Simla Agreement in letter and spirit.
He also talked about the assurance given by then President Musharraf in January 2004 that he will not permit any territory under Pakistan's control to be used to support terrorism against India.
Asked about Pakistan Foreign Ministry Spokesman Nafis Zakaria's statement that Prime Minister Narendra Modi crossed the "red line" by talking about Balochistan, Swarup said he finds it an extraordinary remark by a country which recognises no red line in its diplomacy.
"I find this an extraordinary remark from a senior functionary of Pakistan that recognizes no red lines in its own diplomacy. Pakistan's record of cross-border terrorism and infiltration is at the heart of the problems in the region today. And this not just India's view. You can ask some other countries in the region too," he added.