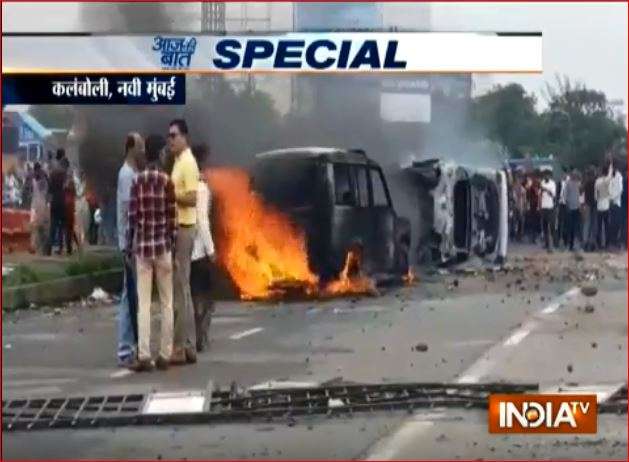 Mumbai bandh, which began is India's financial capital this morning in support of reservation for the Maratha community in jobs and education, was called off by Maratha Kranti Morcha, the outfit which is spearheading the stir.
The Morcha decided to call off the stir after the bandh turned violent in many parts of the city.
 "We only wanted to prove that we are together and proved it. We never wanted protests to get violent and therefore, we are calling off our bandh in Mumbai for today," Virendra Pawar, leader of the Morcha, told media persons.
"We suspect some people carried out violent activities with political motives. Otherwise, it was supposed to be peaceful like before. But considering the reports of violence coming from outside Mumbai, we decided to call it off," he added.
According to another leader of the Morcha, a bandh may be called again on August 9 but a final call in this regard will be taken after consulting all senior members of all maratha morchas.
The Maratha Kranti Morcha had given the call for the bandh, demanding an apology from Maharashtra Chief Minister Devendra Fadnavis for alleging that some members from the community were planning violence at Pandharpur town in Solapur district.
Fadnavis, who was scheduled to perform puja at a temple on 'Ashadhi Ekadashi' on Monday, cancelled it after the Maratha outfits threatened to disrupt the event.
  
Quotas for Marathas, a politically influential community that constitutes around 30 per cent of the state's population, has been a hugely contentious issue.
Watch: Maratha Kranti Mocha calls off Mumbai bandh
The community leaders had earlier taken out several rallies in various districts to highlight their demands. Last year, a huge rally was organised by the Maratha Kranti Morcha in this connection in Mumbai.
"Whatever we had to convey to the government, we have done so. But we have been disappointed by the government's response over the last two years," Pawar said.  He said not a single representative from the government had reached out to the protesters.
Attacking the chief minister, the agitation leader said Fadnavis has been "confining himself to his AC room" and never bothered to address their demands.
(With PTI inputs)