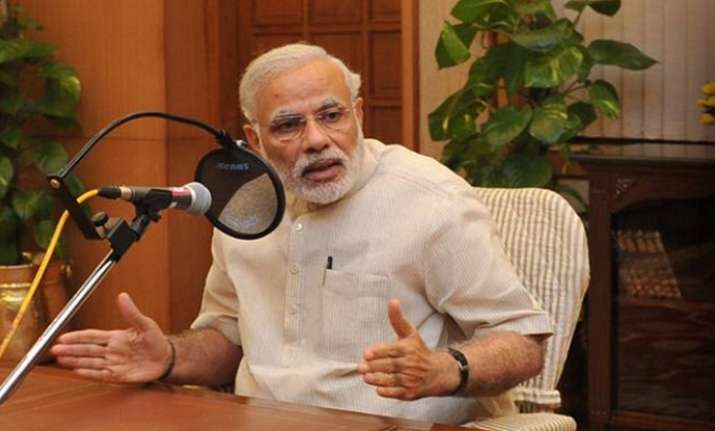 Addressing the nation in the 40th edition of his monthly radio programme 'Mann Ki Baat', Prime Minister Narendra Modi on Sunday hailed the immense contribution of women in uplifting the nation's economy and society. 
PM Modi remembered Kalpana Chawla who died in the Columbia space shuttle mishap, and also cited Defence Minister Nirmala Sitharaman who recently flew a Sukhoi-30MKI and Lt Commander Vartika under whose guidance an all-women crew is sailing across the globe. 
Praising the efforts by tribal women in Chhattisgarh, he said that the tribal women in Dantewada are driving e-rickshaws amidst the persistent violence by Maoists. 
"I want to appreciate the women of Dantewada in Chhattisgarh. This is a Maoist affected area but the women there are operating e-rickshaws. This is creating opportunities, it is also changing the face of the region and is also environment friendly," said the Prime Minister. 
He also talked about the women achievers from diverse areas who were felicitated by the President of India. "A few days ago, the Honourable President of India met women achievers, who distinguished themselves in various fields," he said. 
He also talked about al-women station at Matunga in Mumbai, Maharashtra, and also lauded the all-women bikers of the BSF who displayed their skills at the Republic Day parade. 
PM Modi also elucidated the benefits of Jan Ausadhi Yojana, through which elderly citizens can avail WHO-compliant medicines at up to 75 per cent cheaper price. The objective behind the scheme is to provide quality and affordable medicine to very citizen. 
On Padma awards, the Prime Minister said that the process of nomination has changed and become more transparent. He spoke about the contribution of common Indians who received the Padma awards for their contribution to the society. 
"I am sure you all felt proud after reading about the Padma Awards. We have honoured those who may not be seen in big cities but have done transformative work for society," he said. 
He also praised the "human chain" formed in Bihar against social evils against dowry and child marriage and said flexibility and continuous efforts for self-correction are a hallmark of society. 
With Mahatma Gandhi's death anniversary falling on January 30, he said no tribute to him can be bigger than following the path shown by him.