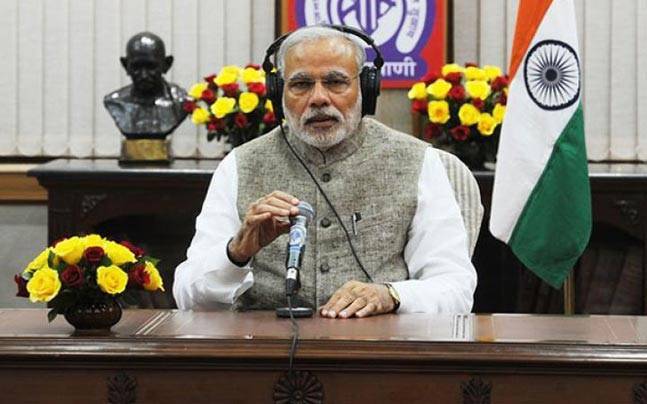 Prime Minister Narendra Modi today addressed the nation through his monthly radio programme 'Mann Ki Baat'. 
This was the 40th edition of the programme, and the first of this year, which was broadcasted on All India Radio (AIR), Doordarshan and also on the Narendra Modi mobile application.
In his last edition of 'Mann Ki Baat', PM Modi had welcomed the youth of the country who will turn 18 years of age in 2018 and become a voter. 
Calling them the "New India Youth", PM Modi said they will form the basis of new India, which will be free of evils like corruption, casteism, corruption and terrorism.
Here are the highlights: 
11:29 am: On 30th January we observe the Punya Tithi of Bapu. Peace and non-violence is what Bapu taught us. His ideals are extremely relevant today: PM
11:27 am: 
Honouring those who have done pioneering work across India. #MannKiBaat pic.twitter.com/1f7mfcRoD7

— PMO India (@PMOIndia) January 28, 2018
11:24 am: I am sure you all felt proud after reading about the Padma Awards. We have honoured those who may not be seen in big cities but have done transformative work for society: PM
11:22 am: Mission Clean Morna River is a wonderful initiative, where people came together to clean the river: PM
11:20 am: 
Mangesh from Maharashtra shared a touching photograph on the NM Mobile App, of an elderly person and a young child taking part in the movement to clean the Morna river. pic.twitter.com/KP2hR9CjFK

— PMO India (@PMOIndia) January 28, 2018
11:17 am: 
Towards affordable healthcare and 'Ease of Living.' #MannKiBaat pic.twitter.com/RO0BvoqvBu

— PMO India (@PMOIndia) January 28, 2018
11:16 am:  But now that he's come to know of the Jan Aushadhi Kendra, he has begun purchasing medicines from there and expenses have been reduced by about 75%. He has expressed that I mention this in Mann Ki Baat, so that it reaches the maximum number of people and they can benefit: PM
11:15 am: Darshan from Mysore, Karnataka has written on My Gov. He was undergoing an expenditure of six thousand rupees a month on medicines for the treatment of his father. Earlier, he wasn't aware of the Pradhan Mantri Jan Aushadhi Yojana.
11:15 am: I want to talk about something very unique in Bihar. A human chain was formed to spread awareness about evils of Dowry and child marriage. So many people joined the chain: PM
11:10 am:  I want to appreciate the women of Dantewada in Chhattisgarh. This is a Maoist affected area but the women there are operating e-rickshaws. This is creating opportunities, it is also changing the face of the region and is also environment friendly: PM
11:08 am:  India's Nari Shakti has contributed a lot in the positive transformation being witnessed in our country and society: PM
11:07 am: A few days ago, the Honourable President of India met women achievers, who distinguished themselves in various fields: PM
11:06 am: 
Women are advancing in many fields, emerging as leaders. Today there are many sectors where our Nari Shakti is playing a pioneering role, establishing milestones: PM @narendramodi #MannKiBaat https://t.co/dnSgAXuRAi pic.twitter.com/BJ86unQJPC

— PMO India (@PMOIndia) January 28, 2018
11:05 am: It is in our culture to respect women
11:04 am: Kalpana Chawla inspired women all over the world: PM
11:02 am: Prakash Tripathi wrote on the NM App- "1st February is the death anniversary of Kalpana Chawla. She left us in the Columbia space shuttle mishap, but not without becoming a source of inspiration for millions of young people the world over".
11:01 am: 
This is the first episode of #MannKiBaat in the year 2018. Just a few days ago, we celebrated our #RepublicDay with great fervour. This is the first time in history that heads of 10 Nations attended the ceremony: PM @narendramodi https://t.co/dnSgAXuRAi

— PMO India (@PMOIndia) January 28, 2018