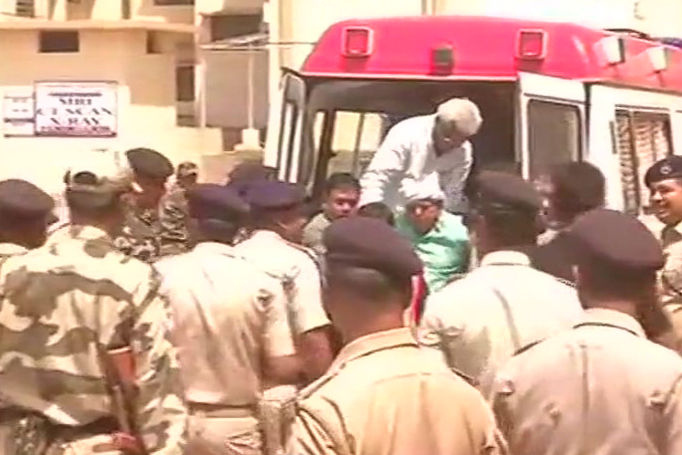 Former Bihar Chief Minister Lalu Yadav reached Ranchi on Tuesday morning, a day after he was discharged from Delhi's All India Institute of Medical Sciences (AIIMS). The Rashtriya Janata Dal chief, who is serving jail term after being convicted in multiple Fodder Scam cases, was taken straight to Rajendra Institute of Medical Sciences (RIMS) from Ranchi railway station. 
The doctor who checked Lalu's vital health parameters on the way hospital said that his health has improved but the leader is suffering  rom a few age-related ailments. "All in all, his health is better now but all age-related complications are there," Dr. Lal Manjhi told the media.
On Monday, AIIMS discharged Lalu after nearly a month of treatment. The former Bihar CM claimed that his release from the Delhi hospital was a conspiracy.
"This is unjust, it is a conspiracy to deteriorate Lalu Yadav's health. I am being shifted to a place where there are no facilities. It is a tough time, but I will face it," Lalu told reporters at New Delhi railway station before boarding Ranchi Rajdhani Express. "I am being shifted under pressure from the BJP government," the 69-year-old leader added.
Also read: AIIMS lodges FIR against 'unknown miscreants' for protesting against Lalu Yadav's discharge from hospital
Lalu had earlier written to AIIMS authorities not to shift him to Ranchi as the hospital there was not well equipped. "If my life is threatened by this decision, then you (AIIMS) will be held responsible, " Lalu wrote.  However, AIIMS said that he was fit to be discharged.  "Lalu Prasad Yadav was referred to AIIMS for management of his acute medical condition. He has improved significantly and is being referred back to Ranchi Medical College for management of his chronic issues," a statement issued by AIIMS said.
Watch: Lalu cries conspiracy as AIIMS discharges him