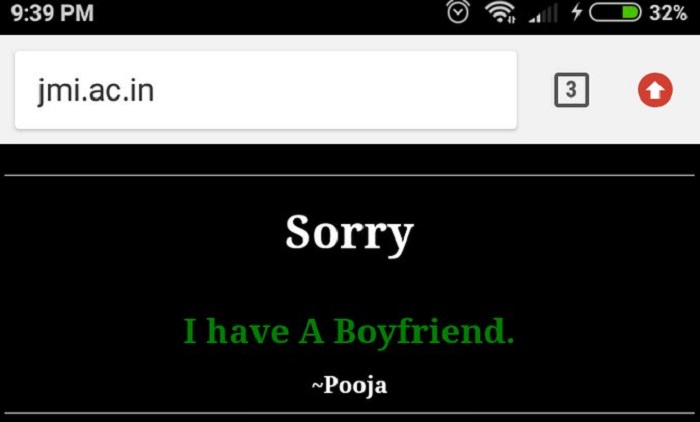 It looks like the heart of technical ashique who hacked the website of Jamia Millia Islamia University has been shattered. An unknown person or group hacked into the varsity's website at around midnight on Tuesday, the message displayed on the screen was - "Happy Birthday Pooja. Your love." Even as the authorities worked hard to restore the website by the morning, the Twitter had a field day with the news. The meme engine christened the unknown hacker as technical ashique. 
But the ashique's heart was shattered a few hours later as the website was hacked again by 9 pm on Tuesday. This time the message said - "Sorry, I have a boyfriend. Pooja". The website was later restored. 
Incidentally, the Jamia website was once again struck around midnight on Wednesday. Only this time it was not a message for or from Pooja. The third strike created serious concerns as the displayed message was "Stuck by Faisal 1337", "Pakistan Zindabad", "Your Website Stamped By & Pak Cyber Attackers Team" and "Security is just an illusion". The website was restored minutes later.
After the first episode of hacking, the university officials said the issue would be taken seriously. "It is unfortunate that someone plays such pranks to send personalised messages. We would be taking this issue seriously. There would be a meeting and we will decide the future course of action," the varsity's media coordinator Saima Saeed told news agency PTI.
Jamia Millia Islamia's media coordinator said that the university received information about the hacking between 12 and 1 am on Monday night. "Our first response was to restore it and we managed to do it in six hours," she added. In the past, websites of many educational institutions were hacked, including IITs of Delhi, Madras, Bombay and Kharagpur, Delhi University and Aligarh Muslim University.
Also read | Official website of Jamia Millia University hacked, flashes birthday message
Here's how Twitter had its fun with the website hack: 
Kids: wishes birthday on Facebook

Adults: sends gift

Legends: #HappyBirthdayPooja pic.twitter.com/FaEe8AMkEn

— awais usmani (@awaisahma) May 22, 2018
When you love her so much(one sided must be) and it's her birthday today & you are damnn afraid to wish her apparently!😄 Applaud to his terrific try👏 Perhaps pooja should be proud!😉 #HappyBirthdayPooja https://t.co/ELNZeWijBY

— Prabhav Jain (@_iam_mr_nobody_) May 22, 2018
#HappyBirthdayPooja

Jamia Lover Boy hacked website to wish her Birthday. pic.twitter.com/eimAYOMPFi

— Amir Farooqui (@farooquiamir) May 21, 2018
The technical Aashiq has hacked the Jamia Millia Islamia website and wrote #HappyBirthdayPooja on the page ! Its Awwwwsome ...I wish @parneetkaur98 you get a same kind of Aashiq😂😂😂 !!!! Right na?? @vilasgihare @Priyank03885590 @Rahool04

— nilima (@nilimayadav) May 22, 2018
Meanwhile reply from Pooja to The technical Aashiq who hacked the Jamia Millia Islamia website and wrote #HappyBirthdayPooja on the page . pic.twitter.com/qnkenzbQd9

— Tahir Zainab 🌴 (@_Tahir_Mushtaq) May 22, 2018
#JamiaMilliaIslamiaUniversity website hacked so its clear to every ashique should learn such thing to impress her girlfriend and professionaly this will help in both way as a career and love life .#HappyBirthdayPooja

— Neelesh Prajapati (@IPNeelesh) May 22, 2018
Now the pooja reply #ihaveaboyfriend uffff ab kya hoga #HappyBirthdayPooja pic.twitter.com/sC51GHsC2y

— awais usmani (@awaisahma) May 22, 2018