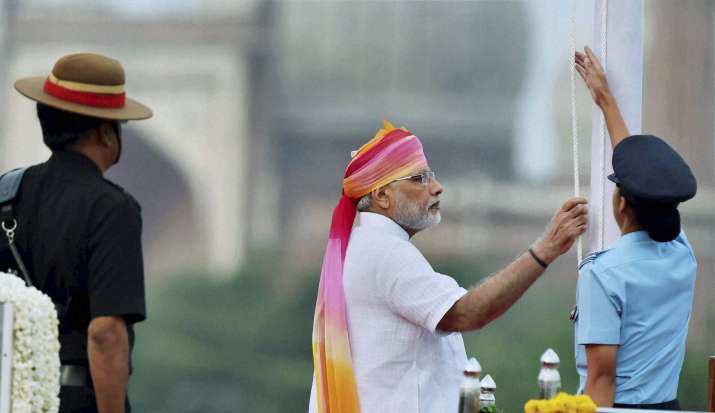 The security staff at the Red Fort went into a tizzy on Monday morning when a black kite was spotted over the ramparts minutes before Prime Minister Narendra Modi was to arrive to hoist the tricolour and address the nation on the occasion of 70th Independence Day.
The venue of Independence Day celebration was being closely guarded by thousands of security personnel and CCTV cameras. Within a few minutes after spotting the black kite, security staff managed to pull it down.
Security personnel also kept a watch on the venue from a chopper which hovered over the Red Fort and nearby areas till the arrival of the Prime Minister.    

     

Thousands of people who reached the Red Fort to attend the Independence Day function were screened and frisked by security personnel.     
Police and paramilitary personnel were deployed along the roads leading to the Red Fort even as the areas were covered with hundreds of CCTV cameras to watch over suspects and any abnormal movement.   
Barricades were put up at various places where armed police and paramilitary personnel kept a strict vigil. Traffic personnel allowed only authorised vehicles to head towards the venue.      
Around 40,000 people, including VVIPs and a large number of school children, were present at the venue. The enclosures for people were also closely watched by Delhi Police commandos and personnel from para-military forces.   
The venue and its surrounding areas were secured by around 8,000 Delhi Police and paramilitary forces personnel, besides those from SPG, NSG and intelligence agencies.