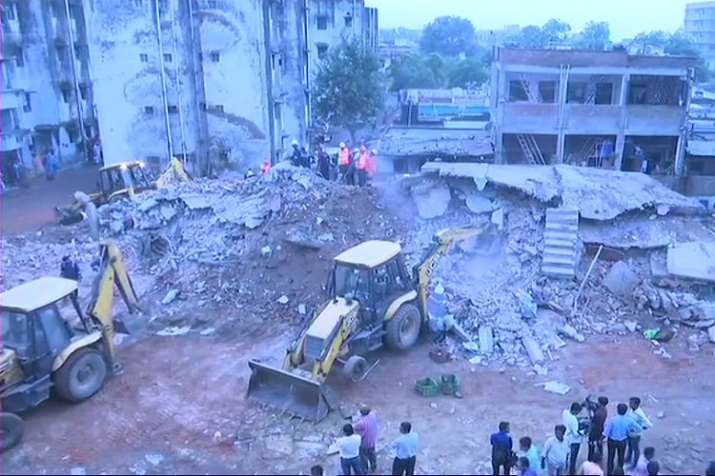 At least person has been killed, while four were rescued, after a four-storey building in a government housing society collapsed in Ahmedabad's Odhav locality on Sunday. Two to three people are still feared trapped in the debris as the rescue operations continued overnight to Monday morning. Five teams of the National Disaster Response Force (NDRF) along with the local fire brigade were deployed. 
Commenting on the incident, Minister of State for Home Pradipsinh Jadeja said the teams were using modern equipment for the rescue operation.
"The blocks were vacated yesterday by the Ahmedabad Municipal Corporation officials after it appeared that the building might collapse any time. But a few residents came back today and were inside the building when it collapsed," Jadeja said on Sunday night.
Jadeja said it was likely that 8-10 people were trapped under the debris however added that the exact number of those trapped was still not known. The fresh estimates by rescue workers say that now only two people remain trapped in the debris. 
Also Read | Ahmedabad building collapse: Several feared trapped; 5 NDRF teams deployed in rescue efforts
According to a government official, Gujarat Chief minister Vijay Rupani issued directions to the district collector over services of the NDRF to evacuate those trapped. "Some residents had returned to the building today due to rains despite them AMC officials asking people to vacate their houses," said Ahmedabad Mayor Bijal Patel.
Two blocks of the building of the government colony, each having around 150 residents, collapsed completely, confirmed AMC Commissioner Vijay Nehra. "After noticing damage, we got the buildings vacated yesterday. Around 300 people had vacated, but some of the residents returned. Some of them are still trapped," Nehra said.
People residing in the building were given notice 24 hours ago to vacate their residences. The city mayor Bijal Patel told India TV that most of the families had vacated their houses, only three or four remained, who are now feared trapped inside.
Talking to India TV, the mayor said that the officials had tried to persuade the families to vacate their houses in the morning as well but they refused to leave despite being provided alternative housing. Twenty-nine out of 32 houses had vacated after the notice, she said. 
However, a woman rescued from the collapse site told media that she and her family had been looking for a house to rent since the notice yesterday and were in process of packing their belongings to move when the incident happened.
Several other former residents of the housing project said that they were given notice to move only today despite the fact that there building has also developed cracks.
The question remains that if the authorities knew that the building could collapse anytime then why weren't the families forced to vacate in due time an why was the notice served only 24 hours ago? 
Watch video: