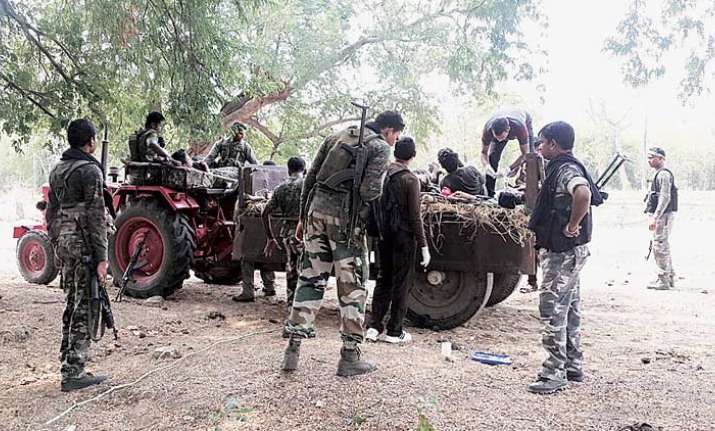 Ten days after the dastardly Naxal attack on an Army camp in Chhattisgarh's Sukma district which left 25 CRPF personnel dead, the security forces got a major breakthrough, arresting four Maoists responsible for the attack. 
According to media reports, the four cadres were arrested on Wednesday evening from phoolbadri area in Sukma, which is near the attack site of Burkapal. 
"Two of them have confessed they were part of the attack team, which was headed by commander of 1st battalion of the People's Liberation Guerrilla Army (PGLA) Hidma. They are being further interrogated about the whereabouts of Hidma, their other senior leaders and further plans," Times of India quoted a source as saying. 
Meanwhile, at least 11 persons were being interrogated on Thursday for their suspected links to the last week's Naxal attack. 
The suspects were rounded up by the CRPF and the district police force during search operations in Chintalnar and Chintagufa areas of Sukma, Deputy Inspector General (Dantewada region) Sundarraj P told PTI. 
"Around 11 suspects are being interrogated in connection with the attack on CRPF personnel in Burkapal area on April 24," he said clarifying that they have not been detained as yet. 
If it is established in their interrogation that they were involved in the attack, then they will be arrested and produced before the court, the DIG added.  
The action comes after Home Minister Rajnath Singh asked security forces to go on an "all-out offensive" against Maoists and "show results in the next few weeks".
Apart from the four arrests, security forces have detained three persons in Dantewada and 12 in Sukam, who are suspected to be sympathisers of Maoists. 
In another major blow to the rebels, a senior zonal commander from Jharkhand , Nakul Yadav, with a Rs 15 lakh reward on his head, and his deputy Madan Yadav have surrendered before the CRPF in Ranchi.