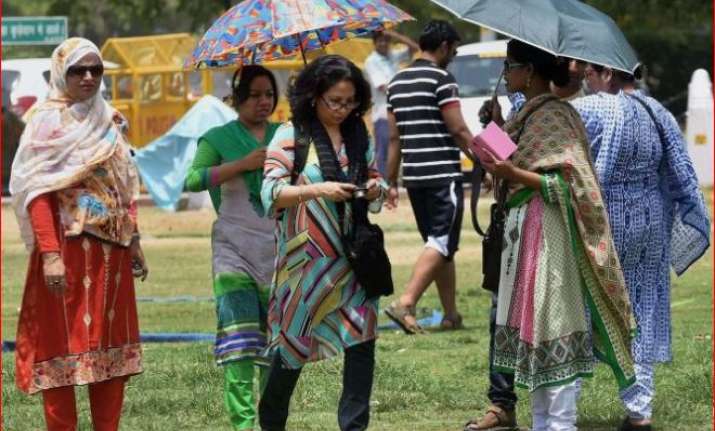 The national capital suffered under heat wave like conditions on Saturday, with maximum temperature touching 42.4 degrees Celsius, four notches above average.
According to weather analysts, while conditions are expected to be same on Sunday, there are hopes of a respite from Monday.
According to the Met Department, the heat wave conditions, which currently grip parts of Delhi, Chandigarh, Haryana, Punjab, Rajasthan and Uttar Pradesh, will continue towards Sunday, June 24. 
The private weather forecasting agency Skymet, however, has predicted that the respite is likely from Monday, onwards with pre-monsoon activities in Delhi.
"From June 25, Delhi is likely to see some pre-monsoon activities with light rain and dust storm. From June 27 and 28, the rains will catch up, bringing the temperatures down," its director Mahesh Palawat told IANS. 
"The monsoon is expected on time in Delhi, towards the end of June," he added.
On Saturday, Palam remained the warmest region in Delhi, sizzling at 44.8 degrees Celsius, six notches above the season's average. Ridge area recorded 43.8 degrees Celsius, Ayanagar recorded 43.9 degrees while Narela sizzled at 42.8 degrees. Gurugram recorded 42.9 degrees, while Faridabad saw 42.4 degrees. 
"On June 24, heat wave conditions will prevail in pockets of Delhi, Uttar Pradesh, Rajasthan, Punjab, Haryana and Chandigarh," India Meteorological Department(IMD) said.
The minimum temperature on Saturday was recorded at 31.6 degree Celsius.
The air quality of Delhi, Noida and Ghaziabad remained poor, while Gurugram breathed very poor air on Saturday.
The humidity oscillated between 30 to 47 per cent.
Friday's maximum temperature settled at 42.5 degrees, four notches above the season's average, while the minimum temperature was recorded at 30 degrees Celsius, two notches above the season's average.
(With IANS inputs)