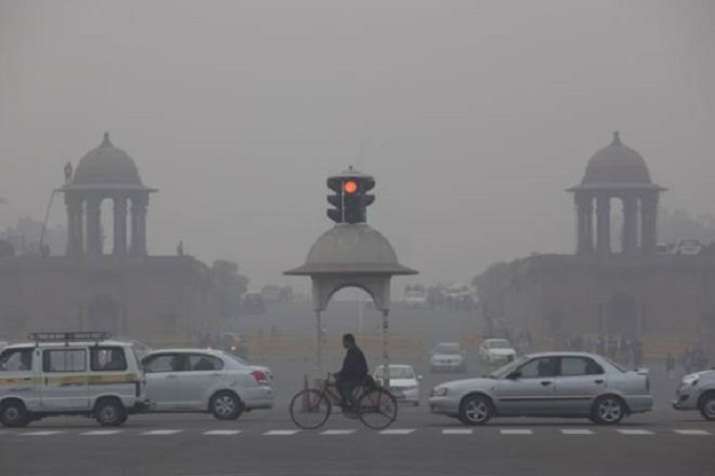 Delhi's air quality continued to be in the 'poor' category on Tuesday, ringing alarm bells across agencies concerned. The Environment minister directed all officers and agencies to be in "war mode" to combat air pollution.
As parts of the Bhalswa landfill site continued to burn slowly, the North Delhi Municipal Corporation announced a slew of measures that it will take for remediation of the over 60-metre high dump.
Supreme Court issues directive on bursting of firecrackers on Diwali
Meanwhile, the Supreme Court on Tuesday ruled that people in the country can burst firecrackers from 8 PM to 10 PM only on Diwali, permitting the sale and manufacture of low emission "green" firecrackers countrywide. For Christmas and New Year, cracker bursting has been allowed for 11.45 PM - 12.45 AM.
It has restrained e-commerce websites like Flipkart and Amazon from selling firecrackers which are beyond the permissible limit.
Firecrackers manufacturers earlier told the court that use of firecrackers should not be completely banned and it should instead be strictly regulated. They had contended that the crackers are not the reason for increase in air pollution and there are other factors, like wind and temperature, which contribute to it.
Environment and health experts welcomed the order, with some describing it as a "spectacular" decision, while others saying it was time the society celebrated festive occasions "more responsibly".
Delhi's air quality keeps worsening
The Central Pollution Control Board (CPCB) recorded the city's overall AQI at 254 in the evening.
An AQI (air quality index) between 0 and 50 is considered 'good', 51 and 100 'satisfactory', 101 and 200 'moderate', 201 and 300 'poor', 301 and 400 'very poor', and 401 and 500 'severe'.
The air quality in the national capital had shown signs of improvement on Monday as it moved from 'very poor' to 'poor' category, but experts said it could deteriorate in the coming days due to toxic air coming out of a fire at the Bhalswa landfill site.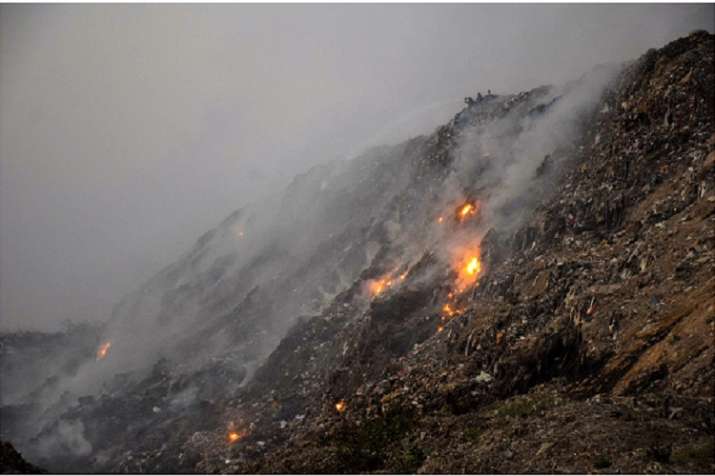 The fire had been raging at the Bhalswa landfill site since October 20, raising concerns about the air quality in the National Capital Region (NCR) further deteriorating. The fire was extinguished last evening.
A senior DFS official, however, Tuesday said parts of the dump site continued to smoulder.
In Delhi, the Centre-run System of Air Quality Forecasting and Research (SAFAR) also reported an AQI in the 'poor' category.
Faridabad, Greater Noida and Ghaziabad recorded AQI in the 'poor' category while Gurgaon's AQI stood in 'very poor' category.
Meanwhile, Environment minister Imran Hussain held a multi-stakeholder review meet for effectively checking air pollution.
"The environment minister directed all officers and agencies to be in war mode to combat air pollution," the Environment department said in a statement.
He reviewed action plan of various stakeholders for implementing the Graded Response Action Plan (GRAP) mandated by the Supreme Court for combatting and mitigating air pollution in Delhi.
"The meeting was attended by the chief secretary, commissioners of the north, south and east corporations, chairman of New Delhi Municipal Council, secretary (environment), secretary (transport & power), special secretary (industries), chief engineer (PWD) along with other senior officers," it said in a statement.
Meanwhile, North Delhi Mayor Adesh Gupta and Municipal Commissioner Madhup Vyas visited the Bhalswa landfill site Tuesday, with the civic body announcing a slew of measures that it will take for its remediation, even as parts of the over 60 meter-high garbage dump continued to smoulder, officials said.
"Three immediate major decisions were taken, which included reinforcement of the barbed wire, deployment of a police team to restrict entry of ragpickers and night vigil by the staff stationed at the site," a senior NDMC official in the Engineering department told PTI.
The mayor also decided that a "global tender" would soon be invited for remediation of the Bhalswa landfill site, the official said.
"The Bhalswa landfill site is spread over 70 acres, rising 62 meters. About 2,000 metric tonne of garbage is being dumped on it on a daily basis and currently it has 80 lakh metric tonne of garbage," the mayor was quoted as saying in an NDMC statement.
On Sunday, the air quality index (AQI) had oscillated between 'poor' and 'very poor' categories and Moday had improved to 'poor' while on Saturday, a haze had engulfed the national capital and the worst air quality of this season was recorded at 324.
Anumita Roy Chowdhury of the Centre for Science and Environment (CSE) Monday said as winter approaches toxic air emanating out of such landfill fires is likely to affect the air quality.
"If the wind speed is lower and the temperature dips, the polluted air coming out of landfill fires will get trapped, which would severely affect the air quality," she said.
The Supreme Court-appointed Environment Protection Control Authority (EPCA) had last week held a meeting with officials of Punjab, Haryana governments and the Delhi government to discuss the pollution situation in the national capital.
WATCH: You can burst crackers for only 2 hours, rules SC
( With inputs from PTI )