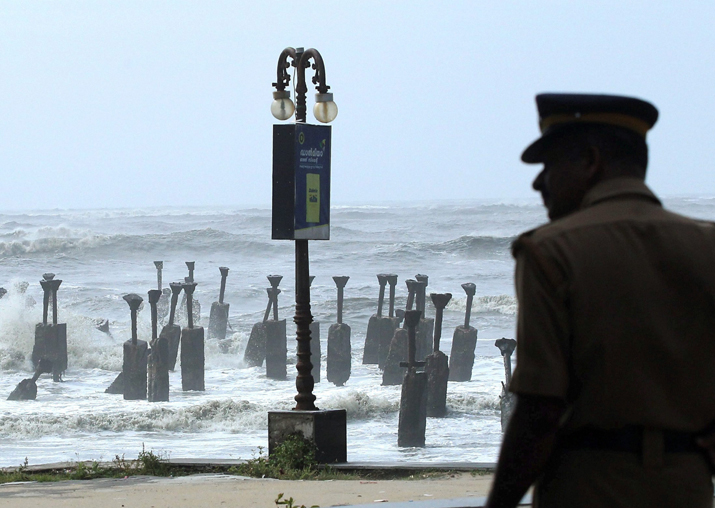 The India Meteorological Department (IMD) has predicted that that the deadly cyclonic storm Ockhi is likely to weaken gradually from Sunday morning. 
The weather department, however, said that a fresh spell of heavy rain is in store in some areas of Tamil Nadu, Andhra Pradesh and Puducherry with a low pressure area forming over south Andaman sea, which is "very likely" to become a depression over the Bay of Bengal. 
"The very severe cyclonic storm 'Ockhi' over Lakshadweep area and adjoining Southeast Arabian Sea further moved northwestwards with a speed of 15 kmph during past 6 hours and lay centred at 2330 hrs IST of December 2, 2017 over southeast Arabian Sea near Latitude 11.1º N and Longitude 69.7º E, about 330 km west of Amini Divi. The system is very likely to weaken gradually from December 3, 2017 morning," it said in a statement.
The deadly cyclone, which had claimed many lives, lashed the coastal areas of Tamil Nadu and Kerala on Saturday with torrential rainfall and gusty winds. 
In Kerala, the death toll in rain-related incidents rose to nine with the recovery of two more bodies, taking the overall death toll to 22. CM Pinarayi Vijayan said that as many as 531 fishermen, stranded in the choppy waters off the Kerala and Lakshadweep coasts due to Cyclone Ockhi, have been rescued. 
The Kerala government has also announced a compensation of Rs 10 lakh to the next of kin of those who lost their lives in the cyclonic storm. In total, 29 relief camps have been set up to accommodate those marooned in coastal areas. 
Occurrence of severe cyclonic storm over Lakshadweep area very very rare. Only two storms passed this area earlier in the historical period of 1891-2016. IMD still could successfully predict its movement over this area at least 48 hrs before to save lives & minimize damages. pic.twitter.com/8QcJwQzcTw

— Dr. Harsh Vardhan (@drharshvardhan) December 2, 2017
The Tamil Nadu government said it will soon seek central funds for the damage caused by the cyclone. This was conveyed to Prime Minister Narendra Modi by Chief Minister K Palaniswami during a telephone conversation between the two leaders on Friday night.
Palaniswami also discussed the situation with Union Home Minister Rajnath Singh. He told Singh that Kanyakumari and Tirunelveli had suffered the worst damage, and detailed the relief work being carried out in "full swing" there. 
The Palaniswami government said that it has requested the Centre to deploy helicopters of the Indian Navy and Coast Guard to search and rescue missing fishermen, mostly from Kanyakumari.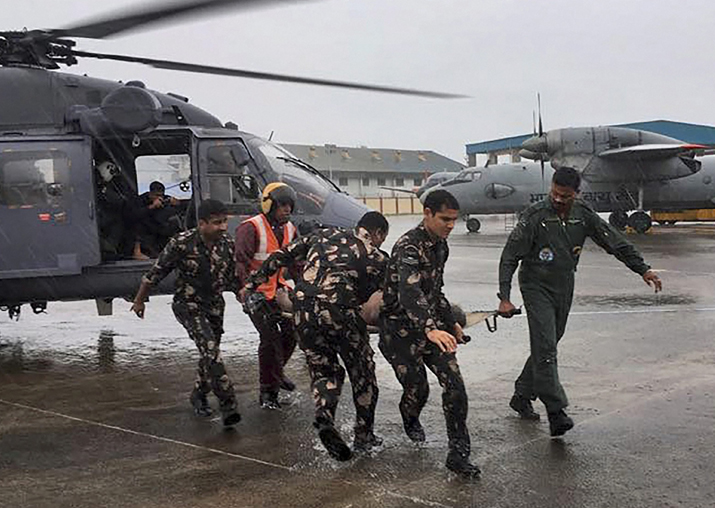 In Kanyakumari, power supply had been restored even as efforts are on to resume power supply in neighbouring areas like Nagercoil and Kuzhithurai. Palaniswami has announced Rs 25 crore for expediting relief and restoration work in the district. 
Kanyakumari, besides Tirunelveli, had borne the brunt of Ochki cyclone, which uprooted hundreds of trees and crippled normal life. 
In Lakshadweep, 1,047 people have been shifted to 31 relief camps. 
Rescue operations are in full swing over Lakshadweep and Kerala coasts by Indian Coast Guard and Navy using ships and aircrafts. Many Fishermen were brought back to home. Wish all remaining fishermen return safe home. pic.twitter.com/XRyDwyhIhX

— Dr. Harsh Vardhan (@drharshvardhan) December 2, 2017
"It is cloudy and strong winds touching 60-70 kmph is blowing with the worst-affected islands being Minicoy and Kalpeni," an official said. 
Minicoy island received 14cm of rain in the last 24 hours ending at 0830 this morning, Met department said. 
Coconut trees have been uprooted at various places and houses damaged in eastern Kalpeni and Minicoy. Officials said that the extent of the damage was being assessed.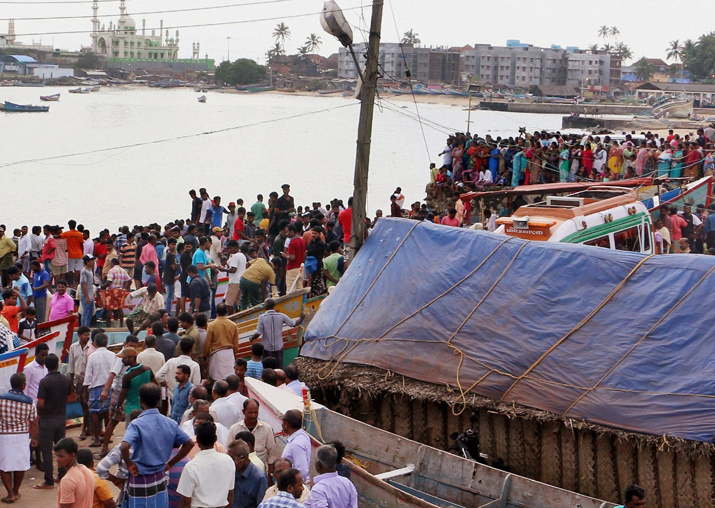 The breakwater jetty, embarkation and disembarkation point of ships have been damaged at Kalpeni from where at least 200 people have been shifted to safer places. 
Stepping up their efforts, the Indian Navy and the Coast Guard continued search for missing fishermen using ships, dornier aircraft and helicopters in the sea off Kerala and Lakshadweep.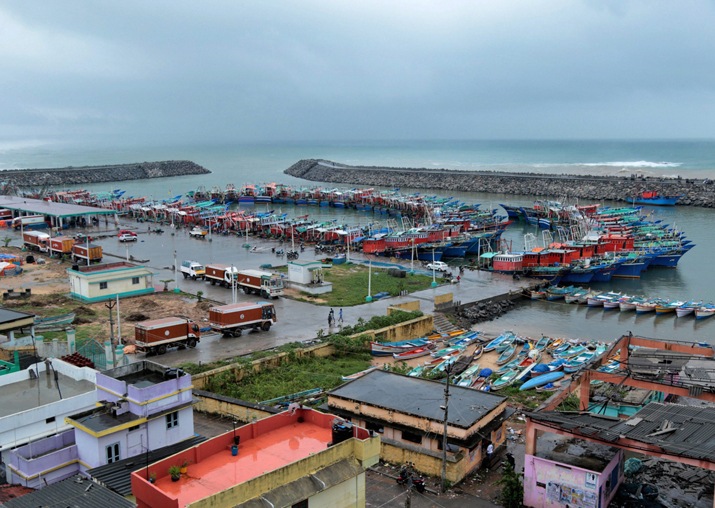 While INS Nireekshak, INS Jamuna and INS Sagardhwani are continuing search and rescue operations in their designated areas along the coast off Vizhinjam in Thiruvananthapuram and Kollam, INS Shardul and INS Sharda are heading towards Lakshadweep.