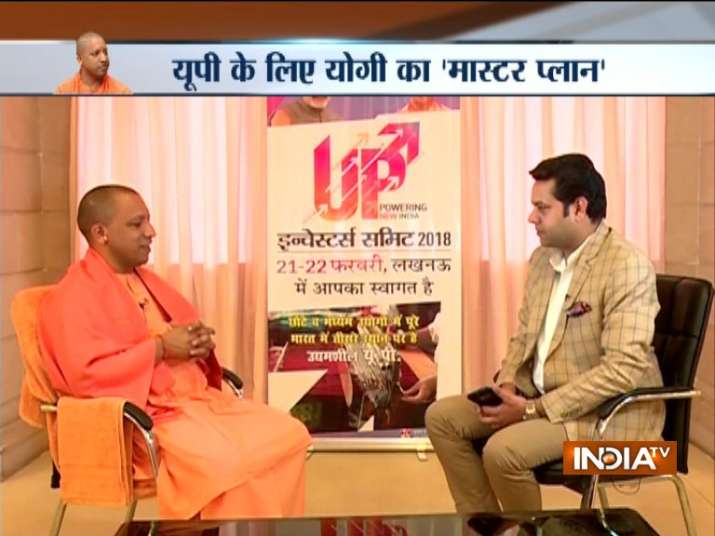 Uttar Pradesh Chief Minister Yogi Adityanath today  talked to India TV on Uttar Pradesh Investors Summit which is scheduled for Feb 21, 22 in Lucknow city.
Here are highlights of Yogi Adityanath's interview:
# Many people, accused of corruption, are behind bars in UP: Yogi
# Unchecked corruption during previous government spoiled UP's image: Yofi 
# No communal riot has taken place in last 11 months in UP: Yogi
# The electorate does not take seriously either Akhilesh Yadav or Rahul Gandhi
# We haveseized properties of many corrupt people: Yogi
# "Good governance" and "Development" are agendas of Modi government: Yogi
# Nirav Modi can't escape freom law: Yogi
# Nirav Modi's bank fraud began during UPA regime: Yogi
# PM Modi has launched a massive attack on corruption: Yogi
# UP was not a priority for any political party till BJP came to power: Yogi 
About UP Investors Summit 2018
The Government of Uttar Pradesh is organising Uttar Pradesh Investors Summit on 21st - 22nd February 2018 in Lucknow city. 
The two day event aims to showcase the investment opportunities and potential in the various sectors of Uttar Pradesh.
UPIS 2018 will offer a global platform, which will bring together heads of states and governments, ministers, leaders from the corporate world, senior policy makers, heads of international institutions and academia from around the world to further the cause of economic development in the state and promote cooperation.