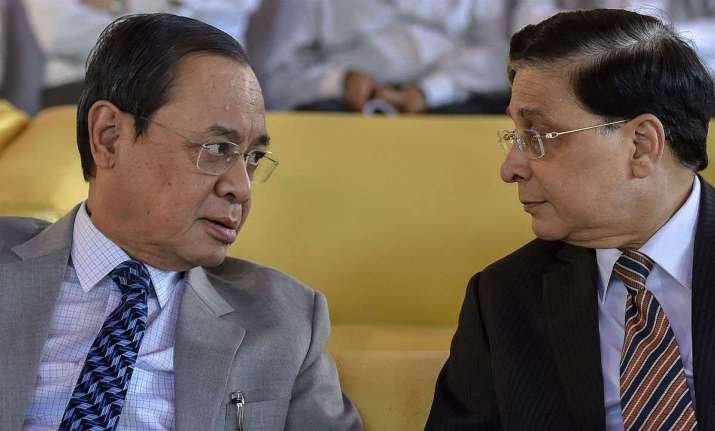 Sticking to the principle of seniority, Chief Justice of India Dipka Misra on Tuesday recommended Justice Ranjan Gogoi as his succesor.
In a letter to the Centre, Justice Misra recommended the name of Justice Gogoi, the senior-most judge in the SC after the CJI, for the Chief Justice of the top court.
By recommending Justice Gogoi's name, the Chiedf Justice has followed the tradition according to which the outgoing Chief Justice sends the recommendation for his successor 30 days before he is to demit office so that the Chief Justice-designate is named well in time.
If the central government, headed by Prime Minister Narendra Modi, clear the recommendation made by the CJI, Justice Gogoi will be administered the oath of office by President Ram Nath Kovind on October 3.
CJI Misra is retiring on October 2. But as the day is a national holiday on account of Mahatma Gandhi's birth anniversary, October 1 will be his last working day.
The Union Law Ministry had in August last week urged the Chief Justice to recommend his successor.
Justice Gogoi is one of the four Supreme Court judges who had held an unprecedented press conference in January this year, raising concerns about the administration in the apex court, saying it was "not in order". 
The other three were Justice J. Chelameswar (now retired), Justice M.B. Lokur and Justice Kurian Joseph.
Justice Gogoi is from Assam and he headed the special bench that is monitoring the updation of the National Register of Citizens to identify citizens in that state.
Born in 1954, Justice Gogoi joined the Bar in 1978. He was appointed a Permanent Judge of the Gauhati High Court on February 28, 2001.
He was transferred to the Punjab and Haryana High Court in September 2010 and went on to become its Chief Justice in February 2011. He was elevated as a judge of the Supreme Court in April 2012.
(With IANS inputs)