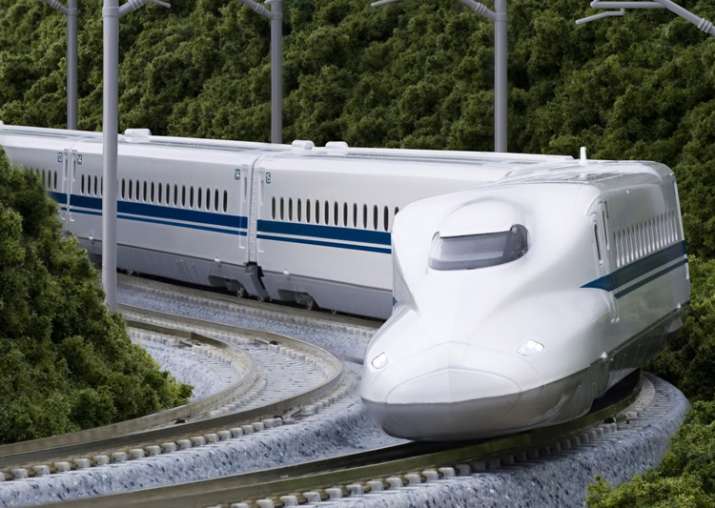 Prime Minister Narendra Modi and his Japanese counterpart Shinzo Abe are all set to launch work on India's first Rs 1.08 lakh crore Ahmedabad-Mumbai bullet train project in Gujarat's Ahmedabad on Thursday.
The city of Ahmedabad is being decked up to welcome the two dignitaries who are on a two-day visit. Massive security arrangements have also been put in place as the two leaders are expected to attend several programmes over the next two days, including the Indo-Japanese annual Summit.
As many as 10,000 people would attend the ground-breaking ceremony for the bullet train project to be held at the Athletics Ground near the Sabarmati Railway Station in the city.
WHAT IS THE BULLET TRAIN PROJECT IN INDIA ALL ABOUT: AN EXPLAINER
WHEN WILL THE PROJECT START?
The work on the country's first High Speed Rail (Bullet train) project will begin on September 14 in Ahmedabad.
With capacity to accommodate 750 people, the bullet train is expected to reduce travel time between the two cities from seven to roughly three hours. The train project, which is expected to be commissioned by the year 2022, will have a dozen halts. A 21-km-long tunnel will be dug between Boisar and BKC in Mumbai, seven km of which will be under sea.
The first bullet train is expected to run in less than five years. Railway Minister Piyush Goyal said the train will start running between Mumbai and Ahmedabad on August 15, 2022, the year marking 75 years of India's independence.
CONNECTING STATIONS
On the Ahmedabad-Mumbai route, the trains are set to run at a speed of 320-350 kilometres per hour. To cover the stretch, a total of 12 stations have been proposed which will connect through Mumbai, Thane, Virar, Boisar, Vapi, Bilimora, Surat, Bharuch, Vadodara, Anand, Ahmedabad and Sabarmati.
A greater stretch of this link, 351 km, will run through Gujarat and 156 km through Maharashtra.
WHO IS HELPING INDIA?
This project is a joint venture between the Indian Railways and the Japanese firm Shinkansen Technology.
THE MONEY ANGLE
The 508-km Mumbai-Ahmedabad High Speed Rail Project will entail an estimated cost of Rs. 1,10,000 crore.
LOAN PARTNERS
Japan will fund 81 per cent of the entire project in soft loans with repayment over 50 years.
The project is expected to get a soft loan of Rs 88,000 crore from Japan. The first tranche of the loan, Rs 6,000 crore, will be released immediately, while the remaining tranches will come after the completion of land acquisition.
WHAT WILL BE THE INTEREST RATE ON THE PROJECT?
Japan is providing the loan for this project at an interest rate of 0.1 per cent, and the repayment will begin only after 15 years. So if we sum up, the interest on the entire loan will be somewhere around Rs 7-8 crore a month.