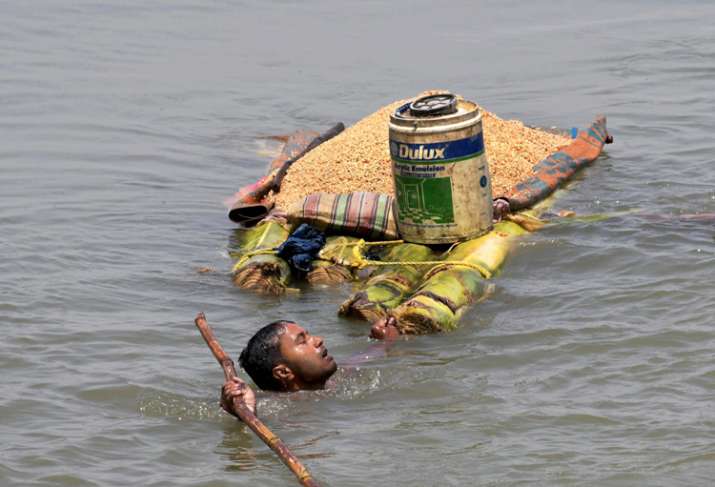 The death toll in Bihar flood has risen to 56 with most casualties recorded in Araria district. Special secretary in the state disaster management department Anirudh Kumar said Araria accounted for 20 flood deaths, West Champaran - 9, Kisanganj - 8, Sitamarhi - 5, Madhepura - 4, East Champaran, Darbhanga and Madhubani - 3 each and Sheohar - 1. He said 69.81 lakh people are in the grip of floods which has engulfed 98 blocks and 1,070 panchayats across 13 districts of the state. 
The number of affected districts went up to 13 with Muzaffarpur being the latest addition. Flood waters submerged the district today. 
The special secretary said 1.61 lakh people have been evacuated and taken to safer places. Out of them, 85,949 have been put up in 343 relief camps in different places. The chief minister made his second aerial survey of flood-hit areas since yesterday. Accompanied by Chief Secretary Anjani Kumar Singh, he surveyed Darbhanga and other regions. 
Nitish Kumar makes aerial survey
Meanwhile, Chief Minister Nitish Kumar made his second aerial survey of flood-hit areas today.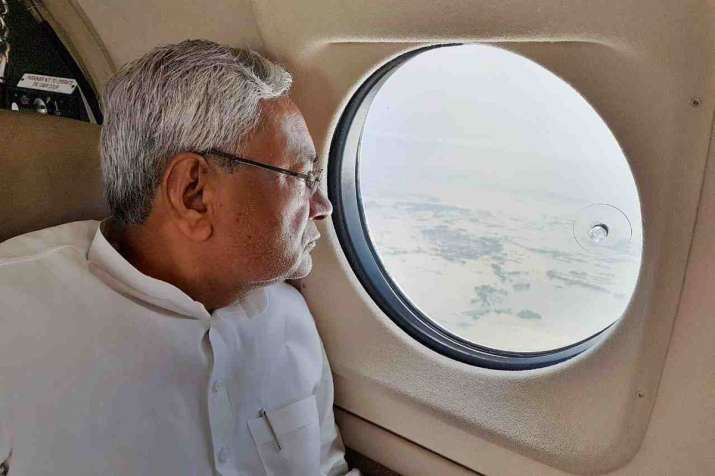 Earlier in the day, addressing the Independence Day programme here, he expressed concern over the 'grim flood situation' and assured the victims that the government would do everything to ensure relief and rescue operations. The flood situation caused by incessant rains in Nepal and some districts of north Bihar is grim. The rivers in north Bihar are flowing above the danger level and have caused 
immense loss and damage, he said. 
The government will leave no stone unturned to help the flood victims, Kumar said and thanked Prime Minister Narendra Modi for promptly sending the NDRF and Army to the affected areas. 
Principal Secretary of Disaster Management department Pratyay Amrit made another aerial survey of the flood-hit areas. 
Amrit, who has been coordinating relief and rehabilitation operation round-the-clock, said that community kitchen has been started in camps for flood victims. 
10 trains cancelled for tomorrow
10 trains have been cancelled for tomorrow due to water logging in Katihar Division. Another seven trains have been cancelled for Thursday. 
East Central Railway (ECR) chief public relations officer Rajesh Kumar said that no train is going beyond Katihar towards the north east as flood waters have inundated the railway tracks.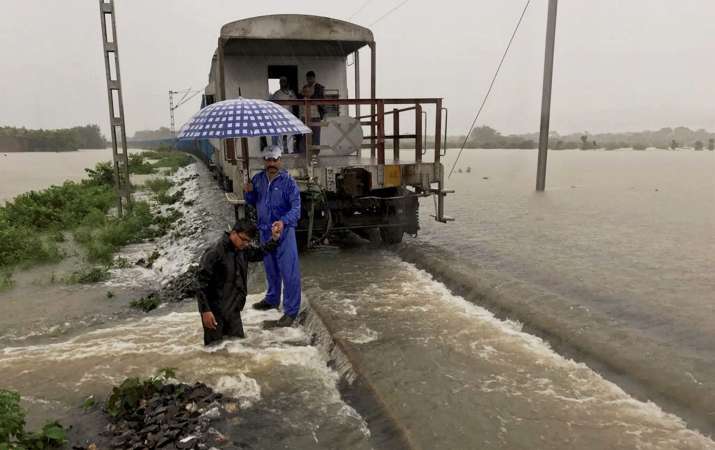 A report from Katihar said that railway bridge number 133 in Barsoi-Kisanganj section of Katihar division of North East Frontier Railway has been badly damaged in flood. 
Soil under the track of the bridge has caved in, it said. The ECR CPRO said that along with cancellation of 33 trains yesterday, Demu service between Samastipur and Raxual and the Gaya-Kamakhya Express were cancelled today due to the floods. 
Rain forecast for tomorrow 
Heavy rain was likely to occur tomorrow at one or two places in Bihar. The downpour is likely to aggravate the flood situation in the state which has claimed 56 lives and affected 69.81 lakh people in 13 districts. 
While the state weather office forecast generally clear sky with possibility of rain or thundershower in some places, it said, heavy rain was likely to occur at one or two places during the next 24 hours. 
Meanwhile, the Met office bulletin said, Patna recorded 19 mm rain from 8.30 am to 5.30 pm today. 
Gaya and Bhagalpur also registered 4 mm rain respectively. 
While Patna recorded maximum temperature of 30.2 degree celsius today, it was 32.4 degree celsius in Gaya and 35.2 degree celsius in Bhagalpur. 
(With PTI inputs)