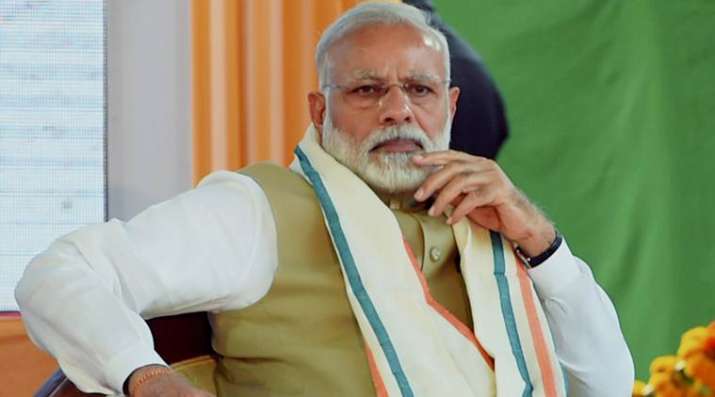 The Pune police on Tuesday (August 28) raided homes of prominent Left-wing activists in several states and arrested at least five of them - poet Varavara Rao in Hyderabad, activists Vernon Gonzalves and Arun Ferreira in Mumbai, trade unionist and lawyer Sudha Bhardwaj in Faridabad and Chhattisgarh and civil liberties activist Gautam Navalakha in Delhi.
The raids were carried out as part of a probe into the violence between Dalit and the upper caste groups at Koregaon-Bhima village near Pune after an event called Elgar Parishad on December 31 last year. 
The multi-city raids and subsequent arrests of several prominent activists by Pune Police which claimed that they were involved in the Bhima Koregaon violence has stirred a massive outrage across the country. The Opposition has described the action against these 'urban Naxals' as 'virtual declaration of emergency'.
However, the security officials in Delhi said letters, purportedly exchanged by Maoist leaders indicating plans to assassinate Prime Minister Narendra Modi, BJP President Amit Shah and Home Minister Rajnath Singh, led to the police action.
One of the letters, purportedly written by a Maoist leader and seized by the police in April this year, talks about a 'Rajiv Gandhi like incident' as a way of ending 'Modi-raj'. Former Prime Minister Rajiv Gandhi was killed by an LTTE woman suicide bomber during a public event in Sriperumbudur in Tamil Nadu on May 21, 1991.
Also read | Outrage over arrests of 'urban Naxals'; opposition calls it 'virtual declaration of emergency'
The letter (email) dated April 18, 2017 also mentions about the requirement of Rs 8 crore for procurement of M-4 assault rifle along with four lakh rounds of ammunition for the purpose.
The email reads, "Defeating Hindu fascism has been our core agenda and a major concern for the party. Several leaders from secret cells as well as open organizations have raised this issue very strongly."
"Modi-led Hindu fascist regime is bulldozing its way into the lives of indigenous adivasis. In spite of big defeats like Bihar and West Bengal, Modi has successfully established BJP government in more than 15 states."
"If this pace continues, then it would mean immense trouble for the party on all the fronts."
"Comrade Kisan and few other senior comrades have proposed concrete steps to end Modi-Raj. We are thinking along the line of another Rajiv Gandhi-type incident."
"It sounds suicidal and there is a great chance that we might fail but we feel that the party PB (polit bureau)/CC (central committee) must deliberate over our proposal," email reads, adding, "Targeting his road shows could be an effective strategy. We collectively believe that survival of the party is the supreme to all the sacrifices."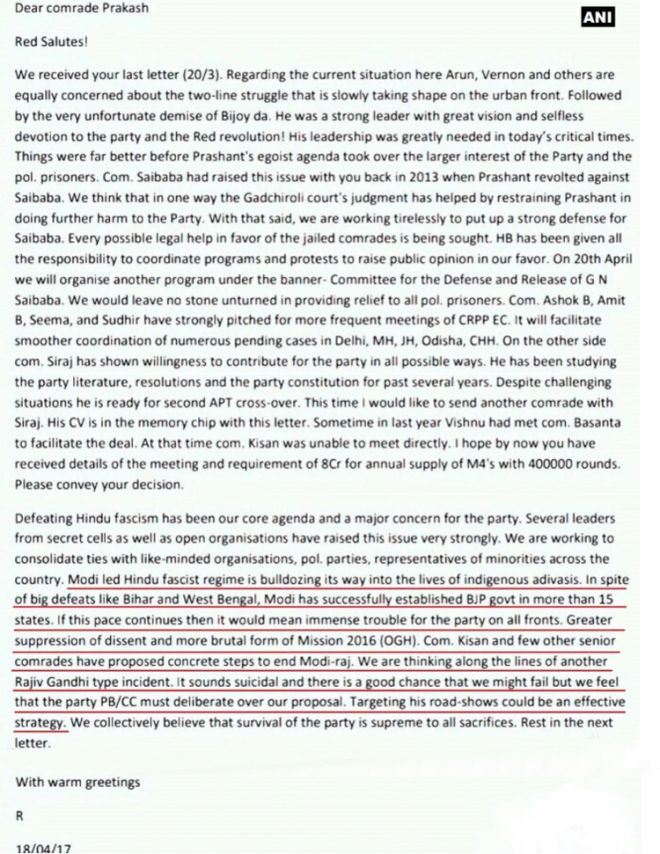 Also read | Pune cops expose Maoists' 'plot to assassinate PM'; Congress calls it Modi's 'old tactic'
Another letter, allegedly written by a comrade named Milind, hails prominent Telugu poet Varavara Rao for his alleged "guidance" in various Naxal activities in the country.
The letter in question was part of a bunch of documents seized by the Pune police during the searches at the premises of five people arrested in June this year for alleged links with Maoists. The searches were carried out in different parts of the country in April.
The letter written in Hindi, hails Rao, described as a "senior comrade", and advocate Surendra Gadling for their "guidance" in carrying out Naxal activities in various parts of the country.
"In the last few months, due to the guidance by senior comrade Varavara Rao and our legal advisor Comrade adv Surendra Gadling in various activities, we received good publicity at the national level," reads the letter, a copy of which is also with news agency PTI.
The letter, whose authenticity could not be verified independently, also talks about Rao raising funds for future "operations" and Gadling being given the responsibility to provide those funds to the "jungle comrades". The undated letter also has a mention of some meeting to be held in Nagpur where Rao and Gadling were supposed to speak.
The June arrests of five people, including prominent Dalit activist Sudhir Dhawale, were made in connection with violent clashes at Koregaon-Bhima village near here on January 1.
Rao and four others were arrested under IPC Section 153 (A), which relates to promoting enmity between different groups on grounds of religion, race, place or birth, residence, language and committing acts prejudicial to maintenance of harmony, said an official. 
(With inputs from agencies)