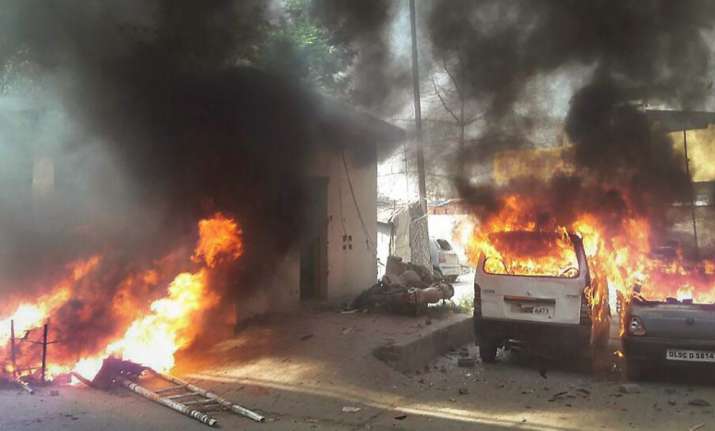 The violence witnessed in Uttar Pradesh's Meerut during Bharat Bandh protests over SC/ST ACT Ruling was pre-planned, the police said. 
The initial investigation into the protest, which left at least one person dead and properties worth crores vandalised, has revealed that a day before Bharat Bandh several SP and BSP leaders made speeches to incite anger. The police also claimed that the protests were 'hijacked' by anti-social elements, and a large-scale distribution of liquor, money to stoke tension during the agitation. 
The Uttar Pradesh Police has identified several people who tried to incite violence, arson and vandalism through witnesses' accounts and videos recorded by them. India TV has accessed the videos, which show a series of hate speeches made by local leaders of SP and BSP in Meerut, a day prior to the planned Bharat Bandh. The speeches were intended to encourage violence during the nationwide strike the next day. 
These local leaders, identified and recorded by the victims of the bandh, had listed help of anti-social elements to ensure violence during the protests in the western UP, the police said. 
The police have recovered 34 videos which contain proof against those who incited violence. 
Watch video: How UP Police nabbed mastermind of Bharat Bandh violence?
One of the persons identified in the videos is Samajwadi Party leader Vipin Manothia. In the video, shot on April 1, Manothia is seen addressing a public meeting in Kankadkhera area, where he allegedly threatened BJP supporters with physical violence 'if they dared to come out on the streets'.
In his speech, Manothia encouraged people in the public to take up arms and assured them protection against repercussions. 
Meanwhile, police also said they have enough evidence of conspiring the violence against Atul Pradhan, who is also associated with SP.
The police have claimed that he was trying to agitate the crowd by talking about Ram Mandir dispute, but he has denied the allegations. Pradhan has said that he was trying to pacify the people.
Former lawmaker and BSP leader Yogesh Verma was also arrested by the police for allegedly being the chief conspirator. verma was arrested on the basis of a video, where he can allegedly be seen as challenging PM Modi and UP CM Adityanath. Verma, who is a former MLA from Meerut, also allegedly encouraged people for vandalism. 
Additionally, UP Police has identified four suspects who are believed to be prime conspirators of the violence in Meerut.
The four alleged conspirators, as identified by the police based on the witnesses' account of the incidents of violence, include BSP councillor Amit Rao. The three others identified are Arun Kumar, Arjun and Gopi Paria. 
Also read | SP, SP workers among suspects in Meerut violence, say police | Watch Video
Money and liquor distributed
Additionally, the police revealed that the Dalit protests on April 2 were 'hijacked' by anti-social elements, and pointed out a large-scale distribution of liquor, money to stoke tension during the agitation. 
In an exclusive interview to India TV, ADG Law and order Anand Kumar also stated that they had information of "peaceful protests" and that they were not expecting what it turned out to be. 
"We had information that the protesters would submit a memorandum, following which they will hold a symbolic protest and that violence may take place," the senior police official said. 
"But what happened was unexpected, such large-scale violence," he said. 
"It seemed as if the agitation was hijacked by anti-social elements. It became a leaderless agitation, totally out of control," Anand Kumar added. 
The senior police official further claimed that they have strong proofs of liquor and money distribution ahead of the protests and that it was done by some to strengthen their votebank. 
"We have substantial proof that money and liquor was distributed late night and early morning before the protests, with the motive of stoking tension," he said. 
Also read | Dalit protests 'hijacked' by anti-social elements; liquor, money distributed to stoke violence: UP Police
"This was done by people who want to become political leaders or whose "netagiri" wasn't working to make sure that a particular community comes along with them," he added.
On being asked if protesters were under the influence of alcohol, the ADG law and order, said, "Yes, there were many people in the Meerut crowd who were drunk which pointed to large-scale consumption sponsored by some."
In one of the most violent protests in recent times in India, at least 11 persons were killed and many injured in violence on Monday as Dalit protesters blocked trains, clashed with police and set fire to vehicles across several states during the nationwide bandh.
Transport, mobile and internet services were hit in many states with over 100 trains getting affected due to protests, even as the Centre moved the Supreme Court seeking review of its recent judgement on the SC/ST Act, maintaining that the verdict will violate constitutional rights of these communities.
While some states had ordered closure of educational institutions as a precautionary measure, incidents of arson, firing and vandalism were reported from MP, UP, Rajasthan, Bihar and Punjab, among other places.
Watch full story on India TV Editor-in-Chief Rajat Sharma's show Aaj ki Baat: