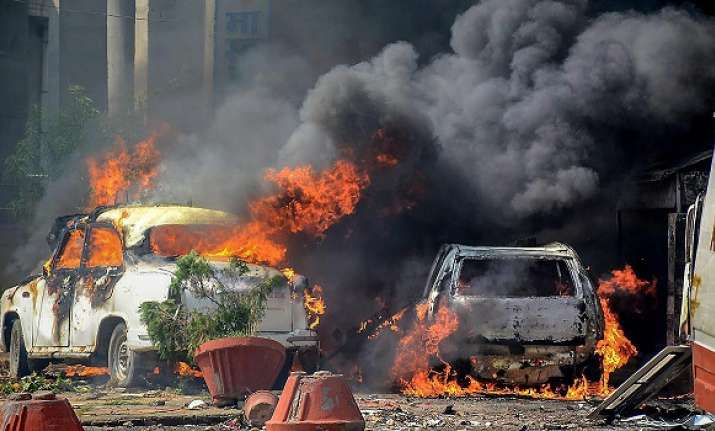 The Uttar Pradesh Police on Wednesday said that the Dalit protests on April 2 were 'hijacked' by anti-social elements, and pointed out a large-scale distribution of liquor, money to stoke tension during the agitation. 
In an exclusive interview to India TV, ADG Law and order Anand Kumar also stated that they had information of "peaceful protests" and that they were not expecting what it turned out to be. 
"We had information that the protesters would submit a memorandum, following which they will hold a symbolic protest and that violence may take place," the senior police official said. 
"But what happened was unexpected, such large scale violence," he said. 
"It seemed as if the agitation was hijacked by anti-social elements. It became a leaderless agitation, totally out of control," Anand Kumar added. 
WATCH VIDEO| Exclusive Interview of UP ADG Law and Order Anand Kumar
The senior police official further claimed that they have strong proofs of liquor and money distribution ahead of the protests and that it was done by some to strengthen their votebank. 
"We have substantial proof that money and liquor was distributed late night and early morning before the protests, with the motive of stoking tension," he said. 
"This was done by people who want to become political leaders or whose "netagiri" wasn't working to make sure that a particular community comes along with them," he added.
On being asked if protesters were under the influence of alcohol, the ADG law and order, said, "Yes, there were many people in the Meerut crowd who were drunk which pointed to large-scale consumption sponsored by some."
In one of the most violent protests in recent times in India, at least 11 persons were killed and many injured in violence on Monday as Dalit protesters blocked trains, clashed with police and set fire to vehicles across several states during the nationwide bandh.
Transport, mobile and internet services were hit in many states with over 100 trains getting affected due to protests, even as the Centre moved the Supreme Court seeking review of its recent judgement on the SC/ST Act, maintaining that the verdict will violate constitutional rights of these communities.
While some states had ordered closure of educational institutions as a precautionary measure, incidents of arson, firing and vandalism were reported from MP, UP, Rajasthan, Bihar and Punjab, among other places.
WATCH VIDEO| Eyewitnesses reveal how protests spread in UP's Meerut during Bharat Bandh