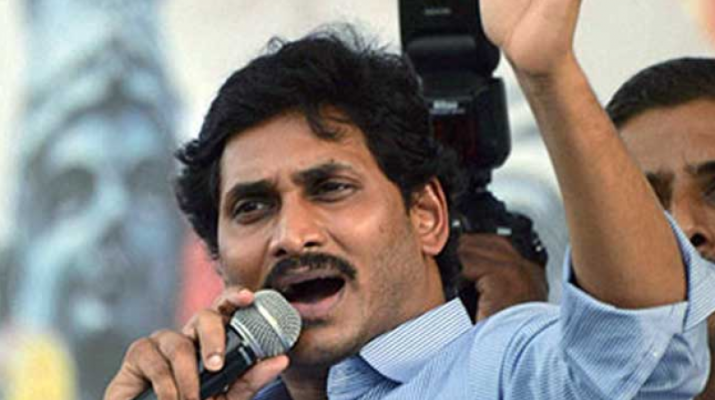 YS Jaganmohan Reddy's YSRCP is likley to win big in Andhra Pradesh Assembly Elections 2019. YSRCP is projected to win anything between 100-110 seats in 175-member assembly. This is a gain of 33-43 seats for Jaganmohan Reddy's party.
Andhra Pradesh: State Assembly prediction 
Party
CNX Survey Results
2014
Change in Position 
BJP 
04-06
04
+01-04
Congress
08-12
00
+08-012
TDP 
40-45
102
-57 to -62
YSRCP
100-110
67
08-18
Others
10-20
02
08-18

 
N Chandrababu Naidu's TDP, that won 102 seats in 2014, is staring a massive defeat with 40-45 projected seats as per India TV-CNX Exit Poll. Congress is likley to win anything between 8-10 seats while the BJP will be limited t0 4-6 seats.
The story is same when it comes to 25 Lok Sabha seats in Andhra Pradesh. YSRCP is likley to 18 seats while TDP projected to bag 7. BJP is unlikley to open its tally as per the India TV-CNX Exit Poll.
The BJP has got 10.71 per cent of votes but the party is unlikely to open its account in Andhra Pradesh, India TV-CNX exit poll predicts.
Congress party that bagged 11.50 per cent of votes in 2014 has increased its vote share to 13.45 per cent.
India TV-CNX Exit Poll is based on surveys conducted in 542 out of 543 Lok Sabha seats in the country. The sample for the survey was drawn using a multi stage Stratified Random Sampling Technique. The survey team visited the randomly selected polling station going deep into by-lanes and meeting people from all walks of life.
A quantitative survey using a structured questionnaire was administered randomly to 135500 men and women from section A and section B households, in the age group of 18 to 60. (The results are subject to a margin of error 2.5 percent)
Andhra Pradesh: Projected vote share
| | | | |
| --- | --- | --- | --- |
| Party | % CNX Survey Results | 2014 | Swing of Votes |
| BJP | 10.71 | 08.50 | +02.21 |
| TDP | 22.17 | 29.10 | -6.93 |
| Congress | 13.45 | 11.50 | +1.95 |
| YSRCP | 40.65 | 28.90 | +11.75 |
| Others | 13.02 | 22.00 | -8.9 |
Andhra Pradesh: Seats Prediction
| | | | |
| --- | --- | --- | --- |
| Party | CNX Survey Results | 2014 | Change in Position  |
| BJP  | 00 | 02 | -02 |
| TDP | 07 | 15 | -08 |
| YSRCP | 18 | 08 | +10 |
Also Read: Left Front faces wipeout in West Bengal |India TV-CNX Exit Poll
Read | India TV-CNX Exit Poll West Bengal: BJP makes great strides but Mamata likely to hold fort with 29 seats