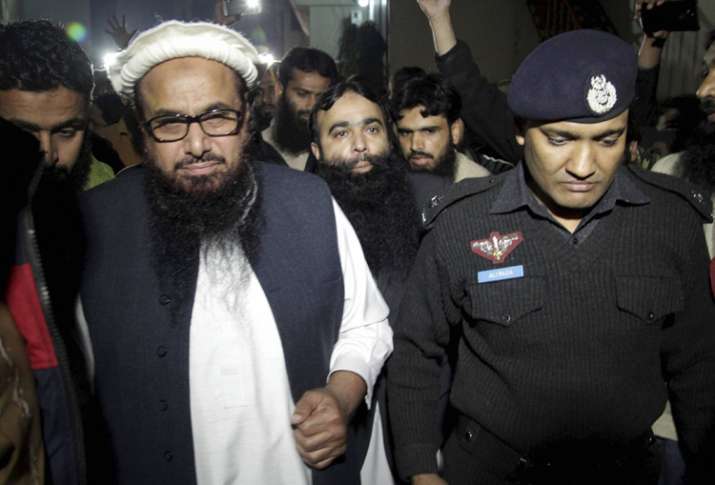 India on Tuesday said that the recent actions against Mumbai attack mastermind Hafiz Saeed were not enough and "only a credible crack down on him and other organizations involved in cross border terrorism would be proof of Pakistan's sincerity."
"Exercises such as yesterday's orders against Hafiz Saeed and others have been carried out by Pakistan in the past also. Only a credible crack down on the mastermind of the Mumbai terrorist attack and terrorist organizations involved in cross border terrorism would be proof of Pakistan's sincerity," Ministry of External Affairs spokesperson Vikas Swwarup said today in a response to a question on Saeed's house arrest on Monday.
Pakistani authorities on Monday night put Hafiz Saeed and four others under detention under an Anti-Terrorism Act.
"We have seen reports on the Pakistan Ministry of Interior order placing the Jamaat-ud-Dawa and the Falah–e-Insaniyet Foundation under the watchlist and also the notification under which the Falah-e-Insaniyet Foundation has been included in the second schedule of their anti terror legislation under United Nations Security Council Resolution No. 1267," he said adding that that India has also noted that Hafiz Saeed and four others have been placed under preventive detention.
He further said, "India has long maintained that the United Nations Security Council 1267 provisions pertaining to listing and proscription of known terrorist entities and individuals must be effectively and sincerely enforced by all member states. We have also consistently called for bringing known terrorists under the ambit of the 1267 sanctions."
Saeed was at Masjid-e-Qudsia Chauburji in Lahore when police descended there to implement the order of detention issued by Punjab Province's Interior Ministry yesterday in pursuance to a directive from the Federal Interior Ministry on January 27, JuD activists and Pakistani media said.
His detention sparked Pakistan-wide protest as his supporters demonstrated across major cities against the government's decision which they say was taken under pressure from the US and India.
The LeT chief, who was detained yesterday at his Lahore headquarters, has been shifted to his residence which has been declared as a sub-jail by authorities in Punjab province. He has been placed under a 90-day house arrest which the government today indicated could be extended. 
"The government has detained Saeed and four other JuD and Falaha-i-Insanyat (FIF) leaders for 90 days with effect from January 30 but this detention may further be extended on completion of this period if required," an Interior Ministry official told PTI. 
The provincial authorities have also started to remove the banners of JuD from the roads of Lahore.
National flags have been hoisted at the JuD offices in Lahore, instead of party flags, on the directives of the provincial home department.
As he was placed under house arrest, his supporters launched protests in cities like Islamabad, Lahore and Karachi.
JuD is the front for the banned Lashkar-e-Taiba (LeT) terror outfit which is responsible for numerous terror attacks in India, including the Mumbai terror strike of November 26, 2008, which was masterminded by Saeed.
However, Hafiz remained defiant today and said his detention would give a "fresh impetus" to the Kashmiris' "struggle against India."
Saeed, who was allowed to hold a press conference before he left for his home along with dozens of his supporters amid high police security, said, "My detention order has come from Washington and not Islamabad." 
"If someone thinks that placing me under house arrest will help check freedom movement in Kashmir he is living in a fool's paradise. My arrest will give a fresh impetus to the Kashmiris' struggle against India," he said. 
68-year-old Saeed further said if Indian Prime Minister Narendra Modi thinks that he would get respite in Kashmir after his arrest he is seriously mistaken. 
"We have declared 2017 a year of solidarity for Kashmiris," he said adding that all programmes planned for February 5 will be held across Pakistan and PoK. 
He vowed to challenge his house arrest in the Lahore High Court.