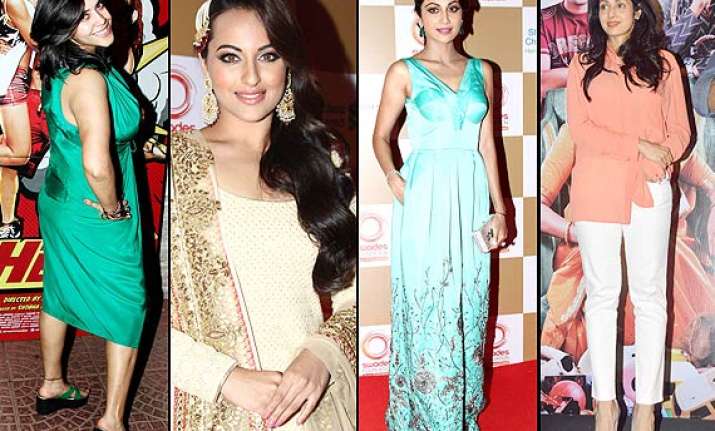 As long as our Bollywood will remain crazy for fashion, we will be witnessing high-end glamour and style along with a few novel fashion blunders and unusual fashion scuffles.
And hence, we are here again with the names of this week's worst dressed celebs.
Our Bollywood divas do not escape a single chance trying to look out-of-the-box and while some of these daring stints hit the chords perfectly, a few fall flat on the fashion radar and then we do the honours of crowning them as the Bollywood's fashion blunders of the week.
While this week we have, Shweta Nanda and
Sushmita Sen
as the new entrance, Shilpa, Sonakshi and
Sridevi
are here too committing fashion crimes once again.
And yes, to provide you with a grinning visual treat, we have Ekta Kapoor too in our list. Though not a shocking appearance, but surely a great hilarious pose with more great outfit.  
With the promotions and charity events reigning the Bollywood this week, we witnessed some of the brilliantly styled actresses in our best dressed section, here follows the list of babes who went wrong with their looks this week and therefore found space in our 6th week's list of worst dressed Bollywood beauties.
Clasp a look to enjoy dissecting the appearance of these celebrities!
Isn't it so much of 'greenery' flourishing here?

While this outfit of Ekta Kapoor is not something different from her usual weird dresses, this look of her at the success bash of 'Main Tera Hero' had everything from the drape, colour, styling to that pose as a strict no.

Hold on, not only just this, did you see those over the board spiritual accessories in Ekta's hand.

We wonder if anyone of those helping EKta to improve her fashion style!
Here again the lady is, with that a sure no-pickup. We agree that Shilpa can make almost anything look good on her, still we wonder what has gone wrong with her sense of choosing the right outfits for herself.

The gorgeous babe, Shilpa Shetty wore a Rajat Tangri teal gown and while she looked nice, we just felt that she could have avoided those bustier styled cups.

Shilpa has got such a great frame that she can carry almost everything with much grace and therefore despite a bad pick of ensemble, she managed to look ok but we missed her up-to-the-mark styling.
Write a comment