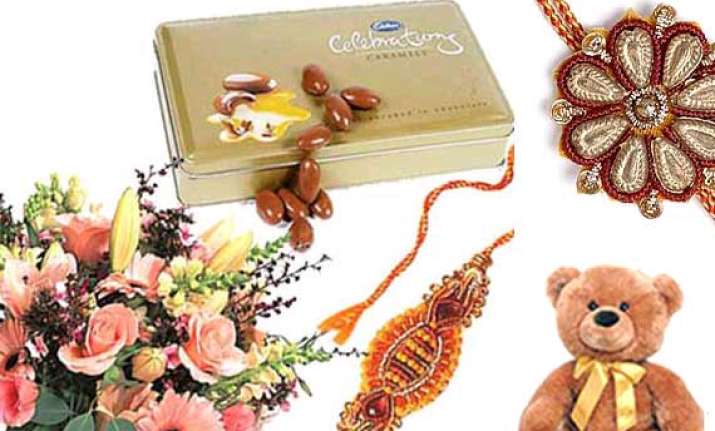 New Delhi: Whether she is a health freak or has a weakness for accessories, give your sister what she desires this Raksha Bandhan. Bags, jewellery and healthy snack hamper can be considered too.
Here are a few interesting gifts that a brother can choose for his sister:
- Colorbar makeup brushes are bright coloured and can be used for all purposes - eyes, cheeks and lips. The price ranges between Rs.400 and Rs.700 and they are available in pink and orange colours.
- Bags by designer Nupur Batra of Ananaya can be another option. Starting from Rs.1,500, the collection offers potli, sling, wooden bangle and peacock multicolour handbags.
- 9rasa, an online shopping store, is offering traditional vibrant gifts like Rajasthani silver bracelet, sari from Benaras, embroidered fabric from Lucknow, delicately worked earrings from Kolkata and much more. Starts from a few hundreds of rupees and goes up to thousands.
- If your sister is complaining of dull skin or fine lines and is just in her 30s, let her try Restylane procedure. The Restylane fillers are injectible fillers. Restylane Skin boosters are injected into the layers of the dermis through microinjections and works in a natural way by replenishing the lost Hyaluronic acid of the skin. It would cost somewhere between Rs.18,000 to Rs.25,000.
- Comic Con India is offering Super Kudi, Wonder Bai mugs, badges, t-shirts and cushions. They are humorous and quirky. The price starts from Rs.50.
- Tribal jewellery by The Vedic collection has launched a new range for Raksha Bandhan. The pieces are made of metal and are inspired from the interior areas of Rajasthan. The price ranges between Rs.1,500 and Rs.2,500.
- If you are gifting her jewellery, don't forget to give it along with a box. Mynesthome.com has launched a jewellery box in floral colour that is hand crafted. Made of high quality wood with velvet inside, it costs between Rs.999 and Rs.1,999.
- Godrej Nature's Basket has come up with 'good health and snacking gift hamper'. Each of these includes imported chocolates such as Lindt truffles, Guylian, Hershys, Duo and more. In addition to chocolates, the hamper also includes protein biscuits, oatmeal, and organic tea.
- Direct-selling company Tupperware has introduced a new range of Disney Snack Cups and Snack Plates. Sweets, candies and more can be served on the cups and plates. A set of four cups is for Rs.475 and the set of four plates is for Rs.650.