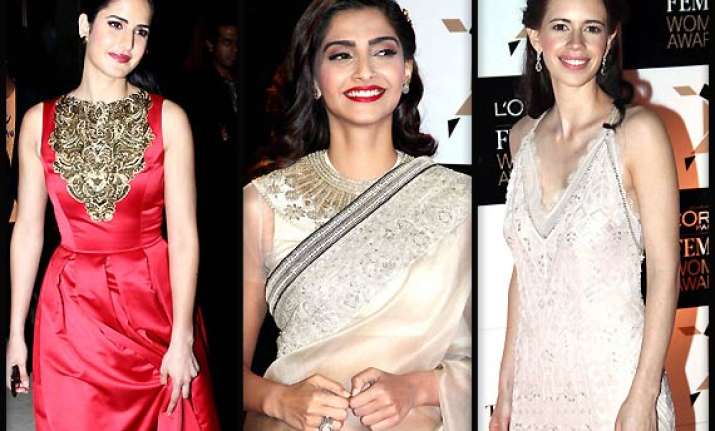 An initiative by L'Oreal Paris and Femina to celebrate the achievements of Indian women from different walks of life brought together some of the biggest names in Bollywood, Aishwarya Rai Bachchan, Katrina Kaif, Sonam Kapoor  under one roof.
The night witnessed women being honoured for their efforts to out stand all within predominant male society and their selfless efforts to encourage other women and girls contributing to make a difference.
 A total of 15 women from different walks of life, including actress Usha Jadhav, former police officer Kiran Bedi and acid attack victim Laxmi were honoured as the beauty brand L'Oreal Paris and women's magazine Femina on Thursday came together to celebrate Indian women achievers.
The third edition of the L'Oreal Paris Femina Women Awards 2014 also brought together three brand ambassadors of L'Oreal - Aishwarya Rai Bachchan, Sonam Kapoor and Katrina Kaif - under one roof for this unique award function.
"Women who are being awarded today are very special as they have worked selflessly. They have a huge contribution in making a difference. It's an unique award in itself and I am proud to be associated with it," Katrina told IANS.
The awards honoured women who have worked selflessly for their communities across 14 categories, including social impact, community causes, science and innovation and education among others.
Aishwarya, Sonam, Katrina along with Akshay Kumar, Neha Dhupia,
Anupam Kher
, Swati Piramal, Sabyasachi, and Zarina Screwvala were part of the jury.
Check out pics...
Photos by Vinod Singh
Sonam Kapoor arrived in donning an Anamika Khanna creation, a pearly white sari with heavy embroidery over the border and a matching embellished blouse.
She looked gorgeous in simple jewellery and that sequined curse added just the right amount of style to her over all vintage look.
This event was Katrina's debut ever since has been roped in as the brand ambassador for L'Oréal Paris.
Being  an ambassador she failed to follow the legacy put up by Aishwarya and Sonam. Katrina arrived in wearing a red Atsu gown with heavy patch embroidery around her neckline.
Her puff hairdo wasn't that appealing; in all it was an 'ok' look from Katrina.
Kalki donned a Ranna Gill maxi with a plunging neckline that looked awful as the entire look fell flat on her.
The bad body glitter and everything on her dress somewhat didn't excite us at all.