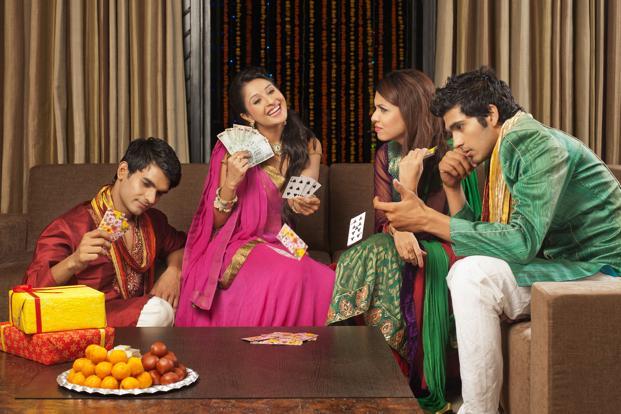 It is October 19 and the big day, Diwali 2017 is finally here and, celebration have begun in full swing across the nation. After Dhanteras and Choti Diwali, devotees are all set to worship Lord Ganesha and Goddess Lakshmi on Deepawali. While Diwali during the day is all about prayers, decorating houses and gorging on some of the best Diwali recipes, it is Diwali night that people eagerly wait for. After lighting diyas and performing Diwali pujan, comes the age-old tradition of gambling on Diwali night. 
Diwali and gambling
Playing cards is extremely popular on Diwali night as it is believed that gambling on the festival of lights not only impresses Goddess Lakshmi but also ensures her goodwill. 
Also, it is said that Goddess Parvati played dice with her husband Lord Shiva on Diwali and, the Goddess commanded that whosoever gambled on Diwali night would prosper throughout the year. Since then the tradition of playing cards such as flush and rummy with stakes on Deepawali has become a popular sight.
On Diwali night, with its importance on money, is also thought to be lucky for gambling. Giving social sanction to a vice, tradition has it that if someone doesn't play cards on Diwali night than he/she will born as a donkey in his/her next life.
As the Deepwali night proceeds, people get together with their friends and relatives to gamble and play cards. The gamblers seek legality for their favourite game by giving reference to the celestial game of dice, which is believed to be played by lord Shiva with his companion Parvati on the auspicious night. Also, if you have visited Kailash temple, Ellora, you must have noticed the very scene sculpted at the cave.
Besides the usual gamblers, people rationalise that this is just to remind oneself of the inconstancy of lady luck and to teach a sense of balance in the chase of material success.
Wish you a very happy Diwali from India TV family!
For more lifestyle news and updates, follow our Facebook page