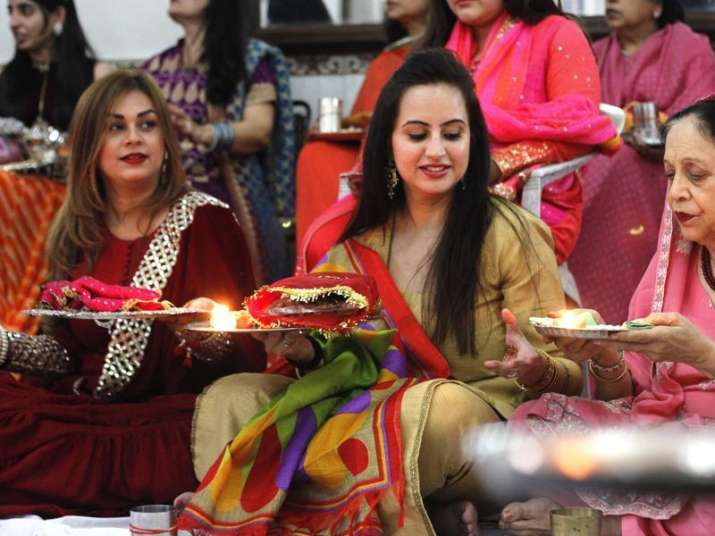 All Hindu married women of Northern India are celebrating Karwa Chauth today. It is a significant day for all married women as they observe fast and offer prayers to the goddess for the longevity of their husbands. Enthusiasm is such that preparation for the festival begins days in advance. Ladies prepare traditional cuisines such as kheer, poori, halwa, etc during Karwa Chauth. Women in North India flaunt their enthic avatars and bridal make up They look flawless in mangteeka, choodi, nath and mehendi on their hands. Men treat their wives like princess and offer them gifts. Some even fast along with their sweethearts and seek blessings for their togetherness. 
This year Karwa Chauth is on October 27. The fast of Karwa Chauth is tough and requires self-control as one cannot even have a drop of water during the entire day. Chauth Mata who is a representation of Goddess Parvati is worshipped during sandhya and after seeing the moon, ladies break their fast. However, if you do not perform puja accurately or commit these mistakes, you may not get benefits of your vrat.
* Do offer prayers to Maa Gauri or Chauth Mata before seeing moon. Do not forget to offer halwa during the puja.
* Do not hurt or insult anybody on this day especially your elders. Talk politely and with love to your mother-in-law and mother. Strengthen your bonds on the day which marks the celebration of togetherness
* Do not give or donate white-coloured items such as rice, curd, milk,etc to anyone on Karwa Chauth. This can yield negative results.
* Wear bright coloured outfits on this day. Refrain from wearing black, brown or blue colours while offering puja.
* Do not throw bangles, sindoor, bindi, etc in dustbin. If bangles get cracked while wearing, keep it at the place of puja.
* Women doing Karwa Chauth should not use scissors, needle, knife, etc on this day.