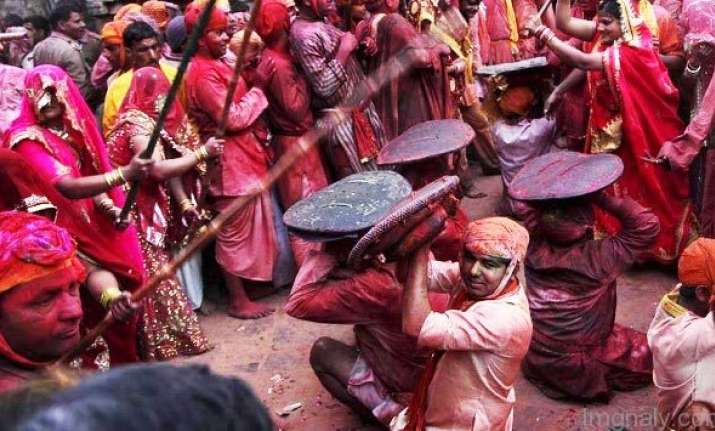 Holi, the festival of colours is here and when we talk about it, how can we forget the popular Lathmar Holi of Nandgaon and Barsana. It is all about sticks and colours as it lives up to its name. On this occasion, men try to colour their wives and ladies reciprocate by hitting them with wooden sticks. It is associated with the Hindu legend related to Lord Krishna and Radha. It is said that there was a time when lord Krishna entered Barsana to tease his beloved Radha and in return her friends chased him out with sticks. After that, it became a tradition.
Every year, men from Nandgaon visit Barsana and ladies hurl sticks at them. Not only this, women make men wear female clothing and also make them dance in public. The celebration takes place at Radha Rani temple in Barsana, which according to legend, is the only temple that is dedicated to Radha. People celebrate the festival with historical pride and enthusiasm.  
The festivities take place for a week and starts four days before the Holi. It is also the sign of the victory of good over evil. Lathmar Holi attracts huge spectators from all parts of the country. People dance, colour each other and also consume thandai.