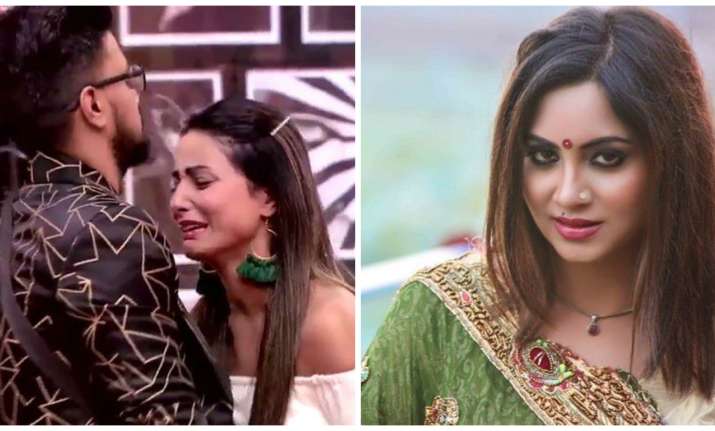 December 7 episode of Bigg Boss 11 was full of emotions as family members entered the house during luxury task. Contestants such as Arshi Khan, Puneesh Sharma, Shilpa Shinde were elated to meet their loved ones while it was not a happy moment for Priyank as her ex-girlfriend, Divya Aggarwal was called to meet him.
In the next episode, Karan Patel and Karishma Tanna are seen in the house. While Karan slams Hina, Karishma asks Shilpa to fight back. Arshi  accuses Salman Khan of favouring Shilpa.
11:29 PM: Hiten's wife Gauri Pradhan hugs Shilpa and Puneesh and tells them that they are playing very well. She calls Shilpa, the young mom of big kids. She then goes and hugs Hiten
11:18 PM: Luv's father enters the house. He is thrilled to meet Hiten and tells Vikas, the way he explains is fabulous. He thanks Shilpa for taking care of Luv. He tells her that his whole family loves her and Luv's mother especially asked him to thank her.
Luv Tyagi's father makes an entry into the #BB11 House. Watch his emotional reaction now! pic.twitter.com/DUDY1fglgu

— COLORS (@ColorsTV) December 8, 2017
11:00 PM: Akash Dadlani's mother enters the house and asks him to stay strong. She says that Shilpa maa is there to take care of him. All contestants are freezed. She calls Hina, pretty and showers love on Arshi. She tells Arshi that people love her to see in nighties. Akash introduces Hiten as 'suljha hua aadmi'' and Arshi as ''the prettiest girl in the house'' to his mother. He tells his mother that he wants a girlfriend like Hina Khan. Bigg Boss orders contestants to release themselves. After few seconds, they are again order to freeze. 
Hina's beau, Rocky Jaiswal enters the house singing melodious track, Raabta. He tells Hina that she is playing very well and people outside the house are supporting her. Hina breaks down and hugs Rocky. Rocky says friendship of Luv, Priyank and Hina are being talked about. He meets Shilpa Shinde and Arshi Khan, tells them he is loving them on the show. Rocky calls Hiten, an epitome of patience. ''Maine Apna Dil Aap Par Haara Hai.. Aapka Dil Mujhpe Haar Ke Mera Jeet Amar Kar Do,'' Rocky narrates a romantic line for Hina. Both of them sing a song together and then hug each other. Hina tells her boyfriend that people even mock when she cries. Rocky gives some suggestions to her. 
10:42 PM: Vikas and Priyank starts arguing with each other. Vikas tells Priyank that he can never improve. Priyank tells Hina that she is her good friend and nothing else (He hints at love angle). Confused Hina asks him to clear what he wants to say. Hina says she is hurt and if he wants then he can maintain a distance from her. She tells Priyank that he should see to whom he is talking. Next day, housemates wake up to the track, ''Koi Mil Gaya'' from Kuch Kuch Hota Hai. Arshi Khan makes nasty comments about Shilpa Shinde, bitches with Hina Khan about Shilpa's failed relationships.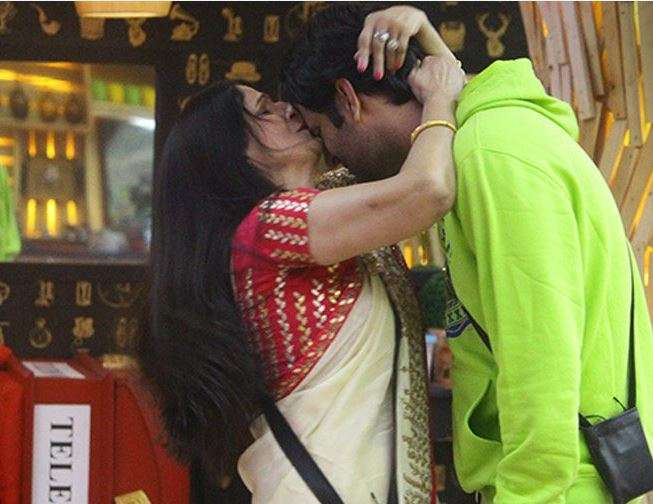 ​10:30 PM: Vikas Gupta and his mother breaks down while meeting each other. They hug each other while his mother showers him with kisses. Hina Khan, Puneesh Sharma cry on seeing such an emotional scene. Vikas promises to care and love his mother more after getting out of the house. Priyank and Luv break down on seeing Vikas's mother. His mother calls Akash, a superstar and Shilpa, her daughter. Before leaving the house, she salutes Vikas and both of them dance in fun. Vikas's mother gives Arshi, a flying kiss.
For all Bigg Boss news, keep watching this space.