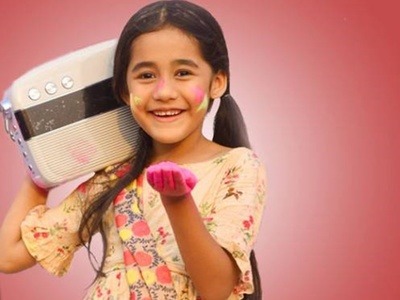 Child actress Aakriti Sharma, who is getting positive response for TV show "Kullfi Kumarr Bajewala", was pleasantly surprised to see her fan -- a three-year-old girl child -- fly to Mumbai from Faridabad just to meet her. There was a video on Twitter showing Shanaya Arora, 3, singing the title track of the show "Paith bichara". Aakriti noticed it and expressed her wish to meet her. Then Shanaya flew down from Faridabad along with her parents, read a statement to IANS. 
"I was very happy that Shanaya came to meet us. When she surprised us on set, I personally took and showed her around along with her family like her elder sister. We also sang my favourite song 'Paith bichara' together," said Aakriti. 
Said Shanaya's father Sachin Arora: "My daughter Shanaya is a huge fan of Kullfi. Whenever Kullfi sings on screen, she sings along with her. This show has brought me closer to my daughter and I am very grateful to Aakriti and Mohit Malik for this." 
Mohit says it is nice to know that one's work is being recognised and is changing lives.
"When we saw Shanaya's video, we really wanted to meet her. Little did we know that the team will actually make this possible. I am really grateful to the Arora family who took the time to come down from Faridabad just to meet us and they even chose they perfect day, Father's Day," he added.
"Kullfi Kumarr Bajewala", which airs on Star Plus, tells the story of seven-year-old Kullfi and her talent of composing a song on every situation.
(With IANS Inputs)