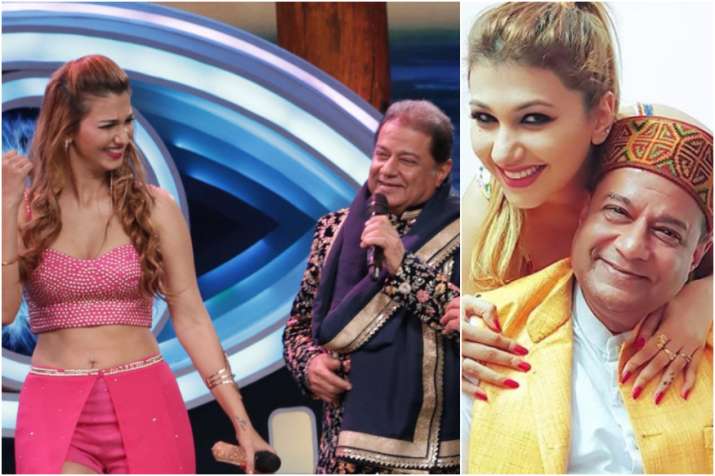 Bhajan King Anup Jalota and his student Jasleen Matharu have been facing flak both online and inside the house for their unusual relationship. For those who don't know, the renowned singer is 65 years old while his disciple and alleged girlfriend is just 28. Their relationship came under scanner as soon as they entered Bigg Boss 12 house. In the first task itself, several fingers were raised at them regarding their relationship. The revelation that Anup Jalota is dating Jasleen Matharu, who is 37 years younger to him, was not only shocking for the audience, but her family was also taken by surprise.
Bigg Boss 12: Anup Jalota when alleged gf Jasleen denied sharing bed with him, says 'Toh main dur ho gaya'
Jasleen Matharu's father Kesar Matharu was as unaware of her relationship as we were. He himself introduced Anup Jalota to her daughter so that she could hone her singing skills. However, he never had a clue that his daughter for dating her Guru for more than three years. While talking to Aaj Tak, he said that he will never approve of her relationship with Anup Ji.
Talking about Jasleen Matharu's relationship with Anup Jalota, he said, "I had no clue about this. I was told they were entering as guru-shishya jodi. She never told me about this. When they made the announcement, my entire family couldn't believe their eyes. We all got very angry. Within ten minutes, I started getting calls from friends. My wife (who was watching the show) got up and went inside. It was very unexpected."
Bigg Boss 12: Shilpa Shinde opens up about Anup Jalota-Jasleen relationship, says targeting him is not right
When he was asked whether he would approve of their relationship, Kesar Matharu said, "No. Never. It's not possible. If she asks me, I will never give my approval to this relationship. I will not give my blessings to them, and I would rather keep my distance from this. But I will definitely ask my daughter why she did it. If she admits to her relationship with him, I will maintain my distance from them."
Jasleen's father was so upset that he couldn't talk to anybody for two days. He even went on to say that he will not visit his daughter if Bigg Boss call him in the show.