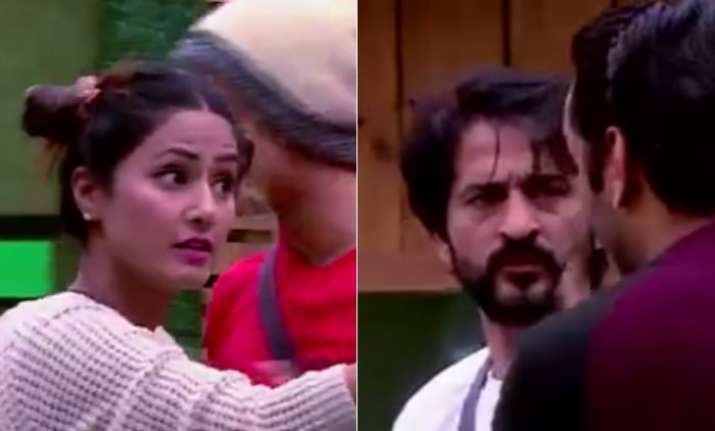 Get ready for a fresh wave of entertainment tonight as Bigg Boss 11 brings to you fun-filled captaincy task. In last night's episode, Luv Tyagi was seen hatching a plot to make Arshi Khan the captain and foil mastermind Vikas Gupta's plans. He was also seen conspiring with friends Hina Khan and Priyank Sharma. Vikas suspected Priyank of foul play and was seen turning against him. The TV producer was also seen yelling at good friend Arshi calling her "flip" and "mad lady". Meanwhile, Hiten Tejwani lashed out at Akash Dadlani for kicking him out from the captaincy battle.
BB Day Care Center continues and some of the contestants are still vying for the enviable position of captain. Hina, Luv and Arshi are in the running for the ace position and will put their best foot forward to prove that they can be the next leader of the house.
Arshi Khan tells the housemates that @lostboy54 is ruling the house at the moment! Catch the drama unfold tonight at 10:30 PM. #BB11 #BBSneakPeek pic.twitter.com/jRcX8uq5ep

— Bigg Boss (@BiggBoss) December 6, 2017
Here are the LIVE updates of Bigg Boss 11 December 6 Episode 66: 
11:30 pm: Shilpa asks Akash to talk respectfully atleast but Akash get even more hyper. Shilpa tries to make Akash understand and he gives her a kiss on the cheek which accidentally lands up on her lips. Shilpa gets angry and warns Akash not to come near her face.
11: 15 pm: Arshi Khan becomes the new captain house of the house. 
11: 07 pm:: Bigg Boss reminds that the prams still have to be parked. Luv doesn't park his van, removing Vikas from the captaincy race.
10: 55 pm: Hina is out of the captaincy race as Hiten Tejwani takes Vikas Giupta's advice and finishes last at the BB Day care centre task. Hina Khan loses her cool on Hiten. She is upset over the way he has been openly supporting Vikas.Hina yells out to Hiten to park his pram. Hina yells, "Its is not fair!".
.@eyehinakhan is upset with @tentej's game plan. What will happen next? Tune in to find out, tonight at 10:30 PM. #BB11 #BBSneakPeek pic.twitter.com/E0TEWFScuh

— COLORS (@ColorsTV) December 6, 2017
10:48 pm:  Luv and Priyank get engaged in a verbal fight. Hina Khan comes to the rescue and persuades Luv to forgive Priyank saying that they should stay together in the Bigg Boss house.
10:45 pm : Vikas tells Puneesh to not park his pram when the alarm sounds so that Hina gets out of the game.
10.41 pm: Puneesh says he will only support Vikas or Hina in the captaincy task for the week. He tells the same to Hina.
10: 37 pm: Hina, Arshi, Luv and Priyank Sharma discuss Vikas Gupta's tactics in captaincy task. Arshi says that Puneesh Sharma will not favour her in becoming the next captain of the Bigg Boss 11 house. Luv tells them that Vikas has told him that he will give Luv priority over Puneesh.
10: 34 pm: Arshi Khan continues her dirty game and makes Shilpa Shinde's doll hang from the ceiling. Vikas takes the doll down as he feels that it would not look good on national television. He politely asks Arshi to start respecting people.
10:32 pm: Contestants wake up to popular children song Lakdi Ki Khati song. Hina Khan, Luv Tyagi and Priyank Sharma discuss captaincy task.
For more entertainment news and updates, follow our Facebook page