 Movie Name:

Firangi

Critics Rating:

1.5

/

5

Release Date:

DEC 1, 2017

Director:

Rajiev Dhingra

Genre:

Drama
Firangi, is the joint venture of Comedy Nights director Rajiev Dhingra and the host of the show, Kapil Sharma. Set in the pre-independence era, the film begins with a voice-over by Amitabh Bachchan briefing the freedom struggle and introducing to a regime whose king is a womanizer and most importantly is good friends with Britishers. Starring Kapil Sharma in the lead role of Mangat Ram aka Manga, who is a jobless man and wants to a police under Britishers. Often shamed by his father for not earning one's daily bread and at the same time supported and encouraged by his dadi, Manga is the Kapil we have seen numerous times. Manga has a weird god gift of curing a kind of back pain by kicking on the person's waist. And believe us, he doesn't even charge for that because he believed that 'blessing' will cease to exist. Also playing the female protagonist is Ishita Dutta, essaying the role of Sargi who resides in a neighbouring village. 
Because of that 'god-gift', Manga bumps into an opportunity of working under Britishers. He becomes a close aide or say a servant of Daniel, a British officer. The story takes a turn when the village where Sargi resides is asked to vacant so that an alcohol factory can be constructed on the site, the profit of which will be reaped by both king and Daniel. When villagers refuse to give away their lands, they are deceived and the blame goes on Manga. What happens next is the the film all about.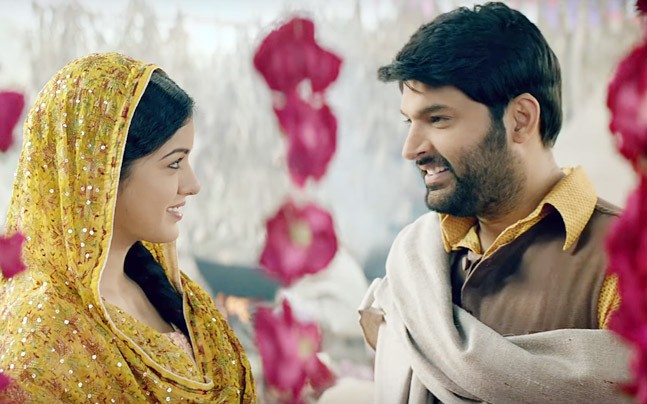 Manga has child-like innocence, he plays with children, dances with women in sangeet and is always eager and excited to help others. Manga is also sharp and is great with one liners, just like Kapil is on his show. He is always that happy-go-lucky guy and we have already seen this avatar of Kapil a lot many times before. Manga's eyes has spark in them, which I personally liked. He can be best described as a useless boy who later becomes everyone's favourite. Kapil's character is not constructive and doesn't offer variant shades of Manga. Ishita Dutta who is making her debut as lead with Firangi has nothing to offer. Sargi is coy and shy and her contribution is nothing more than a supporting cast. The only work she does is smile with love at Manga and shed tears, that too not flawless. Even character actors like Aanjjan Srivastav and Rajesh Sharma have been not utilised efficiently and they don't impress at all. Manga and Sargi's romance seems to be superficial and you don't relate to anyone of them. Their love blossoms in the usual ''aankhon-aankhon mein baat'' style and it doesn't strike chord with your heart. But, couple of songs are worth-humming.
Unlike his debut movie Kis Kis Ko Pyaar Karun, Firangi is not senseless but also not the kind of cinema, we are watching nowadays. Story is good but the screenplay is long and the pace is lethargic. In the first half, you wonder why's not interval arriving soon. And, after the interval, there's no excitement left as the story becomes predictable. Before the scene starts, you are easily able to guess what will come next. The characters of Firangi are not well-written because they don't make you empathise. You don't feel sorry for their lands being snatched away.
I didn't have much expectations from Firangi and so there's no regret. The film is a good attempt but has too many flaws to be ignored, especially its length which provides you ample of time to take a quick nap, check WhatsApp, stretch and yawn. Watch it only if you want to know how Punjab da munda, Manga gets back the village land.