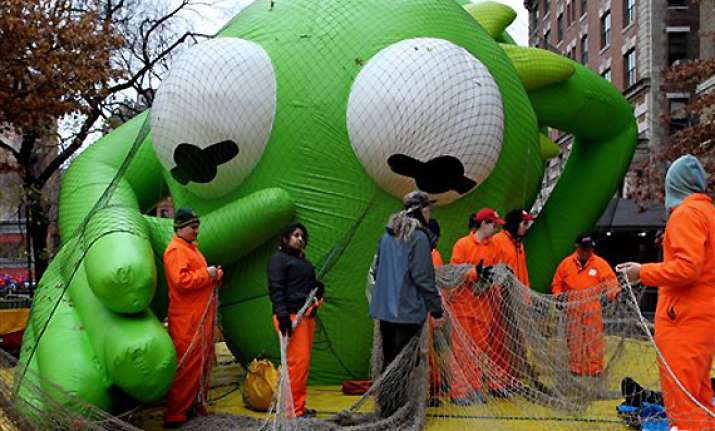 New York, Nov 24: There'll be some monkeying around at the Macy's Thanksgiving Day Parade when Paul Frank's sock puppet-inspired simian, Julius, makes its debut in front of millions of spectators on Thursday.

Sporting a jetpack, the 41-foot (12.5 metre) tall Julius joins 14 other giant balloons, which were inflated on Wednesday (23 Nov. 2011) near New York's Central Park.

Video game character Sonic the Hedgehog returns to the parade after an 18-year absence.

Thousands of people, many families with children in tow, were drawn to the spectacle of the balloons lying as if asleep on the streets, held down by weighted nets.

Besides the popular giant helium balloons, Macy's parade is also expected to feature more than 40 other balloon creations, 27 floats, 800 clowns and 1,600 cheerleaders.

John Piper, Vice President of Macy's Parade Studios spoke excitedly ahead of the parade calling for everybody to "see the brand new wonderful balloons we have this year."

Organizers say Mary J. Blige, Cee Lo Green, Avril Lavigne and the Muppets of Sesame Street will participate, some taking the stage at the end of the route in Herald Square and others performing on floats.

About 3.5 (m) million people are expected to crowd the Manhattan parade route on Thursday, while an additional 50 (m) million watch from home.

The parade began in 1924 and included live animals such as camels, goats and elephants.

It was not until 1927 that the live animals were replaced by giant helium balloons.

The parade was suspended from 1942 to 1944 because rubber and helium were needed for World War II.

But one thing has remained: since its inception, the balloons have always been based on popular cultural characters and holiday themes.

Returning favorites this year include Buzz Lightyear, Clumsy Smurf, SpongeBob SquarePants and Kermit the Frog.

Also making their first appearances at this year's parade are a pair of bike-powered balloons, one featuring a bulldog character and an elf balloon designed by Queens resident Keith Lapinig, who won a nationwide contest.

All the balloons are created at Macy's Parade Studio, and each undergoes testing for flight patterns, aerodynamics, buoyancy and lift.