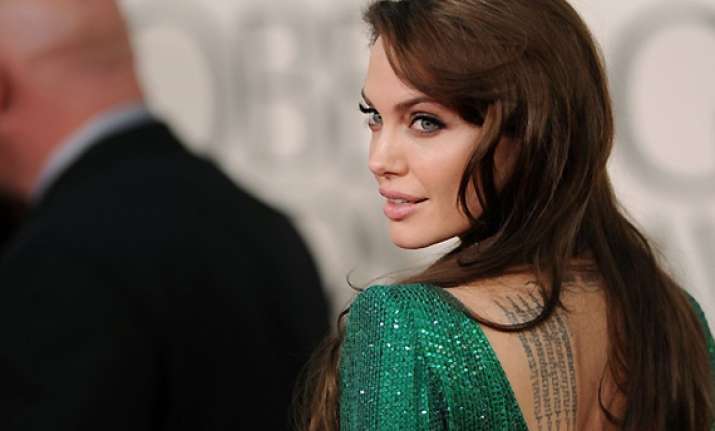 Los Angeles, Dec 10: Megastar Angelina Jolie has a new credit on her resume—writer and director. Her directorial debut is a feature film set in the 1990's conflict in Bosnia called "In the Land of Blood & Honey."

It was something that I only knew a little bit about," she said when asked why she made the film.

"I remember hearing and I remember thinking, 'This isn't World War II, this is the 90's.' This was in Europe and this was so close to, I traveled to Europe on and off during that time with my family and was completely unaware of how close I was to such atrocities. So I felt a responsibility that it was to my generation and my generation and at the same time I also realized the more I read about it how little I knew and how much there was for people to understand about this part of the world and how important it was to bring it back into discussion. So that was certainly a big driving force and the other side of it is that people from former Yugoslavia, from all sides, are some of the most artistic people in the world. They're some of the most talented actors, their music, their sense of art and artistry and life, so as an artist it was also wonderful that I knew that that life would be infused into this, into this film.," she added.

Jolie gave little credence to a lawsuit she faces from a Croatian journalist who claims elements of the film are taken from his 2007 book.

"It's par for the course," she said. "In every, I think, in almost every film that comes out, there's somebody that claims that they, that they're, uh, should be considered a part of it, but... no information about it at all."

The film focuses on a Serbian soldier named Danijel and a Bosnian captive named Ajla, who spark a connection before the war and meet up again during it. It was shot on location in Hungary and Bosnia and Jolie said she received a warm reception.

"The cast is from all different sides of the region, all different sides of the conflict, and they all agreed to come together to make the film," she said. "So that in itself was very unifying and very important. There will always be, and during this film there's speculation as to what it is, there will always be people that in something this sensitive, there is no one view of a conflict that is going to be absolutely accurate and make sense to everybody, but you hope that with all good intentions, and we all approached it with all good intentions, that it would be allowed to have its voice and know where the intentions certainly are stemming from, but with all, I have so much respect for people that have been through war and have been through conflict, and I expect it will be of course very sensitive."

"In the Land of Blood & Honey" opens in limited U.S. release on 23 December.