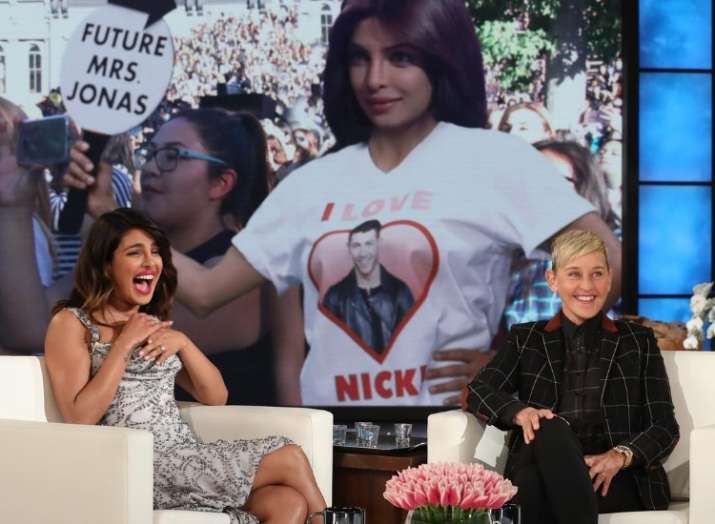 Priyanka Chopra was a voguish appearance on the most popular Hollywood TV show, The Ellen Degeneres Show, and fans can't seem to have enough of it. The actress looked like a million dollars as she made her second appearance on the show wearing a Vivienne Westwood outfit, paired with her wavy hair. While the duo talked at length about PeeCee's upcoming film Isn't It Romantic?, Ellen had a number of questions about the actress' personal life as well as her wedding. While Ellen was not a part of the celebration, she gifted Priyanka with a special wedding gift.
As Priyanka arrived on The Ellen DeGeneres Show to promote her upcoming film Isn't It Romantic?, Ellen asked her about the traditions and the royal wedding and even gifted her with a special collage made for her and husband Nick Jonas. In a video that is being circulated on the social media, Ellen is seen telling Priyanka, "I got you a wedding gift, even though I wasn't invited to the wedding." Replying to this, the actress says, "But I told you, you were. We were offended you didn't arrive." Ellen then says, "You don't stop lying. I got you a wedding gift and I think you'll are gonna love it. I don't know which home you're gonna hang it in cause I know you have a couple of places." Watch the video here-
Priyanka Chopra also relived her 2016 tequila shot moment when she arrived this time on the show. A video has surfaced from the interview in which Ellen is seen making Priyanka Chopra remember that the last time she appeared on the show, she said that she would have tequila shots every time she comes. Keeping up with the promise, both Ellen and PeeCee take a shot of tequila as the picture from the 2016 show appears on the screen behind them. Watch the video here-
On the related note, Priyanka Chopra was on the show to promote her upcoming Hollywood movie, Isn't It Romantic? which also features Rebel Wilson, Liam Hemsworth and Adam DeVine in the lead roles. The movie is set to release in theatres on February 13.
Other than the film, PeeCee also revealed her next project while she was on The Ellen DeGeneres Show. She said, "I am developing a feature with Barry Levinson. He is an iconic American director. We are developing it (from the perspective of) Sheela who is this guru who originated from India. She was his right-hand woman and she was devious. She created a whole cult in America. He was called Osho. I don't know if you've heard of him. It was amazing. I am developing that next for me to star in and produce."
More Bollywood stories and picture galleries
For all latest news and updates, stay tuned to our Facebook page