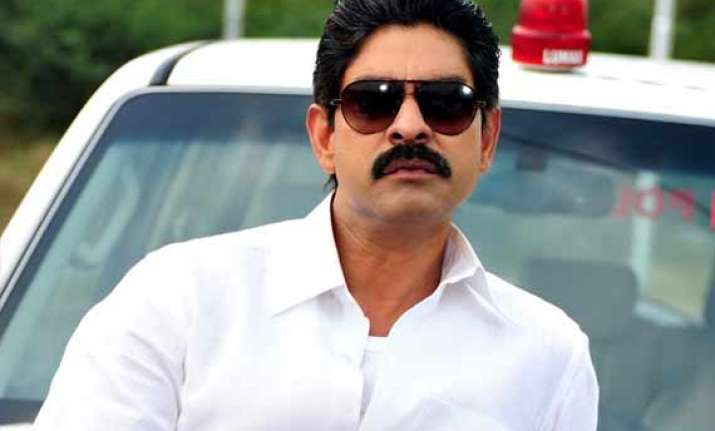 Chennai: Jagapathi Babu, who turned 52 Wednesday, says he is ready to take up mature roles and "strong" characters as well supporting parts in his second innings in the film industry.
Jagapathi, who has played a successful romantic hero on the big screen for nearly two decades, will be seen in the role of an antagonist for the first time in upcoming Telugu political drama "Legend".
"Let's admit it that I'm getting older. I can't expect hero roles to come by anymore. Therefore, I've decided to take up strong characters as well as supporting roles. I'm interested to play mature roles, even if it means playing negative characters," Jagapathi told IANS.
"I agreed to play a negative character in 'Legend' because it's an important character. It's not one of the usual villain types of roles because it has a purpose. I feel I've begun my second innings in the industry and I hope audience will continue to love me like they did all these years," he added.
Going forward, he says he wants to work for his family.
"All these years I worked hard and hardly retained whatever I earned. From now on I want to work hard and earn for my family, my wife and daughter. I'm planning to take them on a holiday that is long due. I think they deserve it more than me," he said.
On the occasion of his birthday, the makers of "Legend" revealed his look from the film. He hopes the film does well.
"I can confidently say that 'Legend' will be successful. I'm signing films that I feel will work and I trust my instinct on this. The other two films I'm currently working on will also be successful when they come out," he added.
His other two films include "Pilla Nuvvu Leni Jeevitham" and "Ra Ra Krishnayya". He will be celebrating his birthday on the sets of the latter.
"I'll be busy working on 'Ra Ra Krishnayya' on my birthday. I play a character quite contrary to what I play in 'Legend'. This is the kind of variation I'm looking forward to in roles in future. No two roles should be similar and I want to ensure that never happens," he said.
Some of the best films of Jagapathi include "Pelli Sandadi", "Subha Lagnam" and "Maavichiguru".