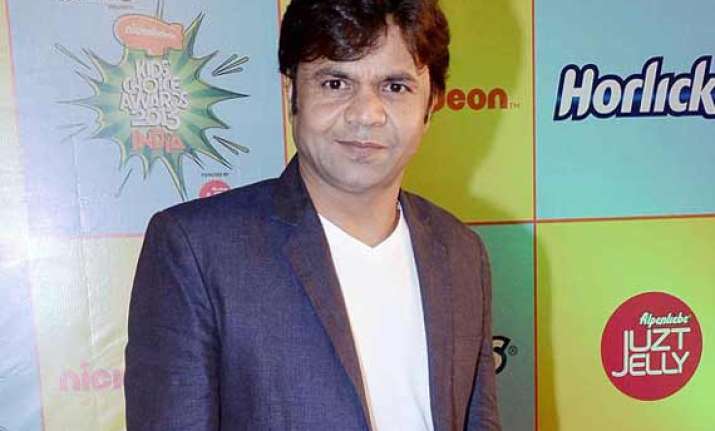 New Delhi: Bollywood actor Rajpal Yadav, who was earlier sent to jail for misleading the court in a recovery suit filed against him, was today allowed by the Delhi High Court to travel to Dubai for shooting of a film in which he has been offered a role.
Justice G S Sistani allowed the 43-year-old actor's plea, saying the money earned through his film can be used to repay the loan of Rs five crore that he took from a businessman who filed a recovery suit against Yadav and his wife.  The court made it clear that by allowing him to go abroad, between March 30 to April 14, 2014, it is "not granting him any concession or condoning his acts" which, it observed, were not good in the past.
"Defendant 2 (Yadav) has filed an application to travel to Dubai for shooting of a movie between March 30, 2014, to April 10, 2014, and undertakes to return latest by April 15.  "The court is of the view that if request of defendant 2 is declined, no benefit will accrue to plaintiff (businessman). But if he is allowed to go under the condition that he will disclose before the court the amount he gets for this and any other roles and will deposit the same, the amounts so received can be used to repay his loan. "By allowing him to go abroad, this court is not granting any concession or condoning the acts of defendant 2," Justice Sistani said.
Yadav was directed to file an undertaking that he will return on or by April 14, will give terms of travel, nature of the contract and the financial terms.
The producer, who has offered him the role, will also have to file an affidavit stating terms of contract, amount that will be paid to Yadav, etc., the court said.  It also warned that any violation of the conditions shall be viewed strictly and listed the matter for further hearing on May 22.
During the proceedings, the counsel for the businessman strongly opposed Yadav's plea, saying the actor has immovable property here which he should sell to pay back his loan and till then he should "sit here and go nowhere".  The counsel also said that Yadav has starred in the recently released movie 'Gang of Ghosts', directed by Satish Kaushik and starring Sharman Joshi, Mahi Gill,
Anupam Kher
, Jackie Shroff and Chunky Pandey among others, but there is no mention anywhere of what he earned from it.  
It was also contended that there was an apprehension that his company - Shree Navrang Godavari Entertainment Ltd - has already been sold.
The counsel for Yadav refuted the contentions and submitted that the actor will get some money soon which will enable him at the very least to cover the principle liability of the loan.
The court also observed that as an actor the more Yadav works, the more are his chances to get additional roles and if he earns, the plaintiff will also earn.
The high court had on December 10, 2013 suspended the sentence of 10 days jail term awarded to him by a single judge for misleading the court in the recovery suit.  Yadav had spent three days in jail from December 3 to December 6, 2013.
Yadav and his wife Radha have been engaged in a legal battle after Delhi-based businessman M G Agarwal, owner of Murli Projects, filed a case against them in the high court for failing to repay a loan of Rs five crore which the actor had taken in 2010 to make his Hindi debut directional film 'Ata Pata Laapata'.