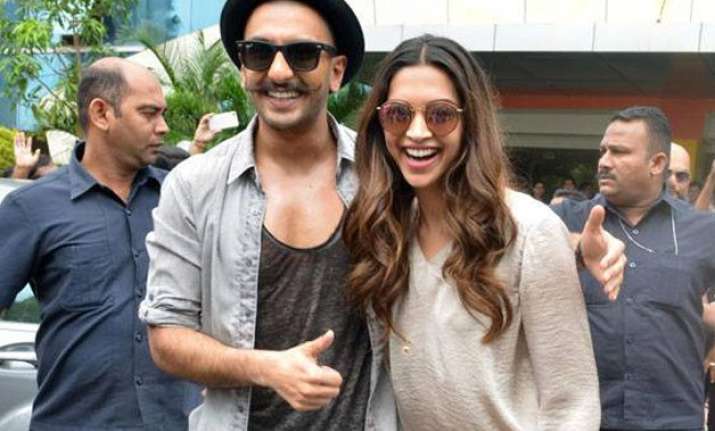 New Delhi: Bollywood actress Deepika Padukone is walking on the air and there are several reasons behind her happiness both personal and professional.
Professionally, the diva has become one of the leady actresses of the industry and recently won the Filmfare Best Actress award for her performance in 'Piku'.
However, it's her personal life that is making the diva grin from ear to ear.
Deepika is currently said to be dating co-star Ranveer Singh, who is head-over-heels in love with her.
Infact, the 'Bajirao Mastani' actor leaves no chance to express his feelings for his lady love. On the other hand, Deepika is quite reserved about her personal life and hasn't actually accepted her relationship with Ranveer officially.
But it seems the 'Tamasha' actress is all set to take her love affair to the next level now.
Yes! Deepika Padukone has just made her relationship with Ranveer Singh OFFICIAL and called out the actor as her 'boyfriend'
This happened during a recent media event, Deepika was quizzed about Ranveer's reaction on seeing her growing proximity with her ex-flame Ranbir Kapoor.
To this Deepika replied, "Is he secure? You have to ask him. How secure or insecure is my boyfriend? I can't answer that question on his behalf. It would be unfair. But what I will definitely say is that I'm going to take a bit of credit for that. I also make it easier by being honest about my feelings for all the people in my life, good, bad, past and present. I'm very, very clear and honest that this is how it is. I make the relationship easier if at all."
Well, Ranveer Singh must be quite happy with Deepika's gesture.
Recently, there were reports that the couple is planning to get hitched this year and are even involving their families now. Infact at the Filmfare event, Ranveer even went on to touch the feet of Deepika's parents after he won the best actor award.
It seems that we'll soon be hearing some good news from Ranveer and Deepika now.