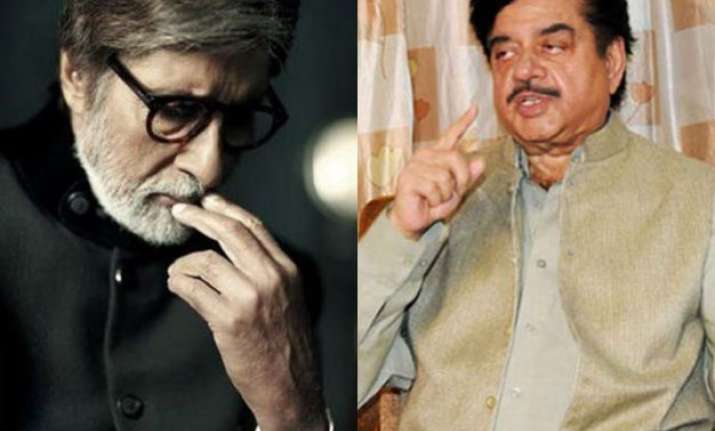 New Delhi: There was a time in Bollywood when the enmity between Shatrughan Sinha and Amitabh Bachchan, always stayed in news. The two who were stars in their own sense did not want to see eye to eye with each other.
With time, both have become influential personalities of India, their equation hasn't improved. Though, it has probably been decades since their fight, the past is back to stir new controversies, courtesy Shatrughan Sinha's biography 'Anything But Khamosh' penned by noted senior film journalist Bharathi S Pradhan.
As Pradhan had mentioned during one of the interviews to a leading daily, Shatughan allowed him to write whatever he wanted. With this, Pradhan claims to have written the most honest biography.
Few excerpts of the book have been released by the publication house Om Books International on their Facebook page and it is bound to bring back the controversial days which surrounded Amitabh and Shatrughan.
In the book, Shatrughan has revealed what actually went wrong between the two, especially when they started off being buddies. "The problem was the applause I was getting for my performances.  Amitabh could see the response I was getting. That's why he didn't want me in some of his films," read an excerpt.
Another excerpt from the book, sights that actresses like Zeenat Aman and Rekha also contributed to the rift.
"Maybe they didn't like something about me and they said something to Amitabh Bachchan, or maybe they said things about me because I knew a lot about them. To strengthen their position, they would be by Amitabh's side. During Kaala Patthar, a heroine who was known to be very friendly with him, would visit him. She would come during Dostana also but not once would he bring her out and introduce her to any of us. In showbiz, everybody knew who was visiting whom. The media would immediately know if Reena was in my make-up room. Such things can never be hidden in our world."
Things turned ugly for both the stars while they were filming Kala Pathar and Sinha's interview which has been quoted in the biography is a testimony of that. A paragraph from the book reads, "On the sets of Kaala Patthar, the chair next to Amitabh would not be offered to me, nor would his umbrella be ever trained to cover any of us. We'd be heading from the location towards the same hotel but he'd sit in his car and never say, 'Let's go together'. I found it all very strange and wondered why this was happening because I never had any complaints against him.""
Shatrughan Sinha's infamous fight with Big B I Kala Pathar has also made it to the book. Mentioning the fight and Shatrughan's take on it, the book reads, "But along with the fight master Shetty who is no more, it was changed, to Amitabh Bachchan beating the hell out of me, beating me constantly till Shashi Kapoor separated us. On this point I had to put my foot down and protest that this was not that had been narrated to me."
Well, with so many revelations, the book is sure to stir new conversations in the industry. The book is all set to release on 6th January, 2016 in presence of BJP's senior leader L.K. Advani in Delhi.